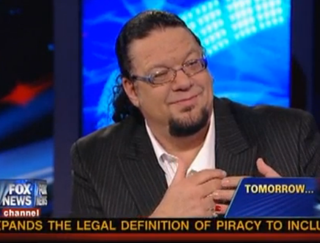 Penn Jillette visited Hannity today to expand on comments he made earlier this week on his podcast about President Obama– comments that got Sean Hannity's attention as Jillette made the point that, had President Obama been prosecuted under his own drug policies, he never could have been President.

RELATED: 'It's Not A God Damn Joke!': Penn Jillette Destroys 'Beyond Hypocritical' Obama Over Marijuana Laws
Hannity began the interview asking out of curiosity why Jillette paints one of his fingernails red (an homage to his mother), but quickly turned to the Presidential election, in which Jillette has admitted to be leaning towards voting for Gary Johnson. "I think Gary Johnson is pretty good," he confirmed, adding that "their personal beliefs don't matter if they have a really strong theory of government," meaning that they know their opinions can't be imposed on others through the power of the state. He refused to vote for someone he disliked less than President Obama, however, based only on that: "I think voting for the lesser of two evils in game theory always leads to more evil," he told Hannity. He added that he thought that those who supported Romney on his own merits should vote for him, but that he was on in that party. "To me, they are much more similar than they are to you," he said of the two major candidates to Hannity.
Hannity noted he supported Romney but that he would be "disappointed" if he governed as a moderate: "it's not a time for half-measures." The conversation, as always, returned to libertarianism in theory, which Jillette described as "as far right as you can go on money, as far left as you can go on sex," and which he attributed in part for him to the believe that "the vast majority" of people are good. Hannity disagreed on that latter point.
The segment via Fox News below:

Have a tip we should know? [email protected]