Pennsylvania Couple Stab Each Other In Fight Over American Idol Winner Predictions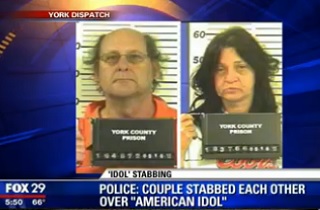 Yes, American Idol is still on the air, and yes, millions of people still watch it, and yes, there are still at least two people who care enough about Fox's singing competition to stab each other over an argument about the show's eventual winner. During the reality competition's penultimate episode last week, a Pennsylvania couple's verbal altercation, over which finalist deserved to win, turned violent. 48 year-old Karen Elaine Harrelson and 57 year-old Gregory Stambaugh definitely stabbed each other, but the details are a matter of controversy. From Philadelphia's Fox 29:
The specifics of the incident read like a Farrelly Brothers remake of Rashomon. According to The York Dispatch, here's how Mr. Stambaugh says it happened:
Stambaugh told police that Harrelson went upstairs to the kitchen, got a knife, returned to the basement and stabbed him. He said she then went back to the main floor and Stambaugh followed her and got the knife away from her, the report says.

He also told police that Harrelson suffered cuts to her right wrist and two left fingers as she and Stambaugh struggled for the knife.
Ms. Harrelson, meanwhile, said she was just innocently cutting some cake:
She told police she went to the kitchen and got a knife to cut a piece of cake when Stambaugh, who followed her upstairs, used a second knife to cut her wrist and also hit her head with his hand and threw her down, the report says.

Harrelson said she stabbed Stambaugh with the knife she had and then called 911, the report says.

Police said they retrieved two knives and two bottles of alcohol, among other things, from the home.

Both Harrelson and Stambaugh told police they been drinking, with Stambaugh adding that Harrelson started drinking beer and tequila at 5 a.m. and that he joined in at noon by drinking beer and a pint of scotch, the report says.
None of the reporting on the incident reveals which contestant the mutual assailants were respectively rooting for, but in the season finale, Candice Glover defeated Kree Harrison to win the Season 12 crown.
The York couple are just the latest Idol fans to turn violent. In 2010, a Florida woman stabbed her boyfriend seven times, then threw hot chocolate on him, over an argument about the show.
Have a tip we should know? tips@mediaite.com