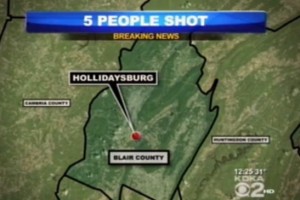 Even as National Rifle Association executive vice president Wayne LaPierre was busy explaining how the solution to mass shootings is not to restrict the sale of rapid-fire assault weapons (even to "bad guys"), but rather, to station armed guards at all schools, several Pennsylvania State Police officers were recovering from injuries received while catching and killing a man who allegedly shot and killed at least three people, none of whom were at a school:
Four people are dead — including the shooter — and three state troopers were injured this morning in a shooting incident in Frankstown Township, Blair County District Attorney Richard Consiglio said.

The gunman and two other men and a woman are all dead, Consiglio said.

The woman was killed at the Juniata Valley Gospel Church, a nondenominational church outside of Geeseytown on Juniata Valley Road, sources tell the Mirror.

Two troopers were wounded during a shootout with the suspect, Consiglio said. One trooper was hit in his bulletproof vest and another was hit by flying glass when the gunman fired at his state police vehicle.
Also from local CBS station KDKA:
According to sources, two troopers were fired at by the driver of a pickup truck on Juniata Valley Road and a third officer was injured in a head-on crash with the pickup.

Sources say the suspect was Jeffrey Lee Michael of Hollidaysburg, Pa.

Michael exited the truck and immediately shot at troopers. Troopers returned fire, killing Michael.

One trooper was hit by two bullets, one in the chest area, which hit his body armor. A second bullet hit the trooper in the wrist. A second trooper was injured from shattered glass, and shrapnel to the face from the gunfire. A third trooper was injured in the motor vehicle crash.
While there is likely to be general agreement that more police would harden targets like schools, this shooting, which unfolded while the NRA was making its highly-publicized pitch to leave gun laws alone, illustrates that armed professionals can't be everywhere at all times, and that reasonable people must at least consider the possibility that not every citizen is fit to own a firearm, and that there might be a way to keep the most deadly of these firearms out of the wrong hands.
Rather than sitting around watching events contradict Wayne LaPierre, an effective response by Vice President Biden's task force, supported by the American people, could finally put us in the much better position of ignoring LaPierre simply on the merits.
Here's KDKA's report on this morning's shooting:
(h/t TPC)
Have a tip we should know? tips@mediaite.com