Pentagon Releases Bin Laden Home Videos: He Watches Himself On TV, Flubs His Lines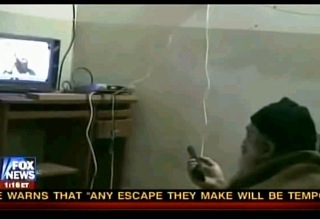 The federal government is starting to slowly release items from what is now history's single largest intelligence treasure trove, Osama bin Laden's Pakistani compound, today making public home videos of the al-Qaeda mass murderer's daily life. Among them, the first to make it on air is that of a frail-looking bin Laden watching himself on television.
Much of the information released today on bin Laden has highlighted his publicity skills, with US intelligence reports stating that he "jealously guarded his image," and that he went out of his way to dye his beard and appear youthful in his al-Qaeda terror messages. The two videos the Department of Defense released today, according to ABC News, are a message intended to be make public and possibly made in October or November 2010 and a video showing bin Laden– appearing much older and sicker than in the first video– watching himself on television. At one point in the video, bin Laden is said to request of the cameraman to zoom in on the TV screen, where a much younger-looking bin Laden is holding a weapon.
There is also what Fox News described as a sort of "blooper reel" attached to the first video, where bin Laden stumbles over his lines and has to do various takes to get it right. Fox News opted to show video stills of the footage rather than the videos, although the Department of Defense released the videos without sound, citing a moral obligation not to air terrorist propaganda materials.
The first reports on the new bin Laden video materials via CNN below:

Fox News' coverage without video:
Have a tip we should know? [email protected]