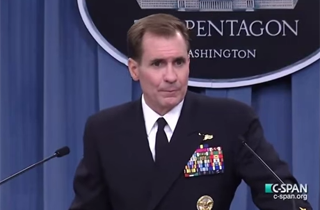 Navy Rear Admiral John Kirby, the press secretary of the Pentagon and they guy you always see explaining American military action on television, announced his sudden resignation today, one day after the new Secretary of Defense was sworn into office.
The New York Times reports that the new Defense Secretary, Ashton B. Carter, asked for Kirby's resignation. Sources close to Carter say that he has "expressed reservations about having a uniformed officer represent the Defense Department in its daily dealings with the news media," and will likely replace him with a civilian. (No replacement has been announced yet.)
While the practice of replacing the old spokesman with a new one isn't unprecedented during a leadership transition, the Times notes that Kirby's apparent sacking was a "surprise":
Cabinet members often bring in their own press secretaries and senior staff members. But Mr. Carter's decision to replace Admiral Kirby, who is respected by reporters and military officials, came as a surprise because of his success in the role, administration officials said. Admiral Kirby has been credited with helping to heal the rift between the White House and the Pentagon over the troop buildup in Afghanistan during President Obama's first term.

A senior administration official said that Admiral Kirby, who developed a relationship with Denis R. McDonough, the White House chief of staff, when the two traveled together to Haiti after the 2010 earthquake, was able to present Mr. Obama's "less is more" approach to war without alienating the military. "That's not easy to do, and it's something that everyone recognizes," the official said.
During a press briefing covered by Politico, Kirby confirmed his departure and acknowledged that he was looking for a civilian to replace him. "One of the questions that I think he wants to rhetorically ask, or consider, is not just who the individual is, but what that individual represents, and whether it's appropriate or not to have a uniform up here," Kirby said. "Those are fair questions for him to ask as he comes into the job."
Kirby will stay on for a few weeks to aid in the transition, and will sadly no longer be seen on our television screens during major military operations, or having some weird feud with Sen. John McCain (R-AZ). We'll miss you, Kirby, especially for moments like these:
[The New York Times]
[Image via screenshot/CSPAN]
— —
>> Follow Tina Nguyen (@Tina_Nguyen) on Twitter
Have a tip we should know? tips@mediaite.com