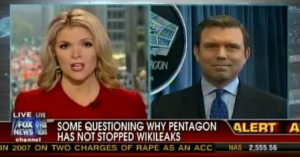 Throughout all the fallout of WikiLeaks' latest release, many have been asking why the government didn't stop the organization before the cables were released (For instance, Glenn Beck compared it to the ease with which they shut down other illegal sites). Today, Megyn Kelly brought on the Pentagon's Press Secretary Geoff Morrell to ask him why they didn't use Cyber Command to stop WikiLeaks. Morrell admitted that they could have, but decided not to because, really, the documents aren't going to hurt us that much. He then proceeded to brush all the accumulated dirt clear of his shoulder.
Here's a notable response:
At the end of the day, as you heard from the Secretary of Defense yesterday, Megyn, this creates some awkward and embarrassing situations for the United States government, it clearly puts those who cooperate with us, even some of our diplomats, in difficult positions (hopefully not endangered situations). But, at the end of the day, it does not, at least over the long term, adversely impact America's power or prestige. Secretary Gates just does not buy into that. People don't do business with America necessarily because they like us or even trust us. They do business with us because they must. We are the last, one, remaining, indispensable power.
Basically, America is Walmart. These losers can say whatever they want about us and our sordid business practices but, come Black Friday, there's still gonna be lines around the block. One could assume that this is an attitude that might not work during the rest of this new century.
Kelly also brought up a recent Washington Post article that posited that the Pentagon is wary of using Cyber Command outside of a warzone for fear of diplomatic backlash. Again, Morrell seemed unimpressed, stating that neither "embarrassment" now "awkwardness" were enough to warrant the command's use.
Check out the clip from Fox News below:
Have a tip we should know? tips@mediaite.com