Perez Hilton to MSNBC: Right-Wing 'Extremists' Using Memories Pizza to 'Deflect from Real Issues'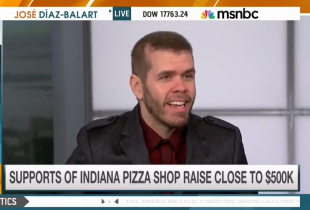 The saga of the now-closed Memories Pizza is being used by conservatives to distract from the real issues at hand, says celebrity gossip blogger Perez Hilton.
The openly-gay television and digital media star sat down Friday morning with MSNBC's Jose Diaz-Balart and took on the various "religious freedom" laws out of Indiana and Arkansas, and went after "right-wing extremists" for their reaction to the Walkerton, Ind., pizza shop shuttering its doors after allegedly receiving threats over its statement about not catering same-sex weddings.
Hilton praised the swiftness with which people reacted to the original passage of Indiana's law and a proposed one in Arkansas, saying "the conversation has changed greatly" thanks to Instagram, Twitter, and other social media. He suggested the laws stemmed from a realization on the part of social conservatives that "marriage equality is inevitable across the country" and so "they're trying to find new ways to hate and new ways to discriminate."
When the conversation turned to Memories Pizza, the social media effort to shame (and eventually close) it, and the conservative-led fundraising effort to support the shop (now more than $500k raised), Hilton had this to say:
It tells me that, once again, extremists in the right wing, or whomever, are trying to deflect from the real issues. It's not about pizza or cake, it's about the message we're sending to people across the country. Is it okay or not okay to discriminate? I don't think it should be okay to discriminate against anybody. The whole principle of this country, that we're all created equal and we should all be treated equally under the law.
Watch that clip below, via MSNBC:
— —
Have a tip we should know? tips@mediaite.com