Perino: Despite Obama's 'Mistreatment' Of The Press, He Still Gets 'Amazing Coverage'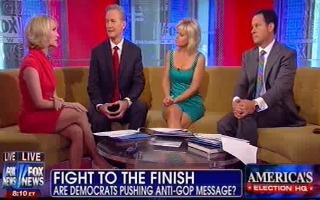 In a segment on Monday's Fox & Friends, The Five host Dana Perino discussed the frustration that the White House press corps is starting to show with President Barack Obama due to his not holding an availability for several weeks but speaking to entertainment venues instead. She said that, while it was interesting that the media is showing its concern, the Obama administration still inexplicably gets good coverage from the press.

RELATED: Obama Reveals To Entertainment Tonight Details Of His Relationship With George Clooney
"I agree that Entertainment Tonight and People Magazine are important ways to reach a certain amount of people," said Perino. "Every time I hear about Jay Leno, one of the two of them are on. I remember President [George W.] Bush didn't do any of those shows when he was president."
Perino recounted why the White House press corps is important and said that the administration "just has to feed the beast" once in a while.
"Are they that unconfident in President Obama's abilities to answer questions from the White House press corps that they feel that they can bypass them," Perino asked.
Brian Kilmeade recounted Obama's interview last week with a New Mexico radio station when he was asked what super power he would like to have most.
"The thing that's amazing though is, despite all this mistreatment by the Obama team, they still get amazing press coverage," said Perino. "It's unbelievable."
"I think it's a bad strategy for them as well," Perino continued. "People who are paying attention in this race who might be inclined to vote for him but aren't that enthusiastic or are looking for details, they're just left with the 'Entertainment Tonight is just as important as you guys' type of response."
Perino concluded saying that Obama would benefit from taking questions from the press because he is strong in those situations, but if the administration is that worried about their record they are going to have bigger problems than just the press.
Watch the segment below via Fox News Channel:
> >Follow Noah Rothman (@Noah_C_Rothman) on Twitter
Have a tip we should know? [email protected]