Perino: Next Thing You Know, Dems Going To Call Paul Ryan 'Ugly' And Say His 'Mama Wears Combat Boots'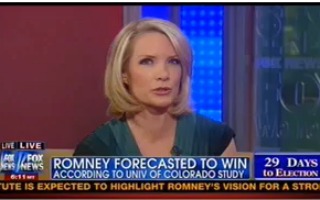 The Five's Dana Perino stopped by Fox & Friends' curvy coach Monday morning, where she was asked to weigh in on a number of topics, including the response to Mitt Romney and President Barack Obama's first presidential debate last week — including Democrats' campaign to paint their Republican rival as a liar.
"It's just nothing that I would ever have done," Perino said of that tactic. "Remember Charles Krauthammer last week after the debate said that, in five minutes, Mitt Romney turned to dust $150 million worth of negative advertising the Obama campaign spent for six months saying Mitt Romney was this terrible person. He didn't like people. He wasn't concerned about the country. He only cared about himself. Then people see him at the debate and people like my sister say, well, that's not the guy that they said he was. And then instead of just the next day of the Obama campaign saying, 'not the best performance, but we got good points made, and wait 'til the next debate.' Instead, they spent seven days saying that Mitt Romney is a liar, something that is not sticking. They sound a little desperate. Then, they pre-accuse Ryan of being a liar. Next thing you know, they're going to call him ugly and say their mama wears combat boots or something."
She then praised Obama for displaying an ability to "chuckle" at his debate performance over the weekend, contrasting it to his campaign going after, say, moderator Jim Lehrer or Romney. In fact, she characterized the "liar" tactic as an attempt to bully Romney and get him off track.
Have a look, via Fox News:
Have a tip we should know? tips@mediaite.com