Perino: Obama Campaign's Felon Attacks On Romney Makes President 'Look Like A Bad House Candidate'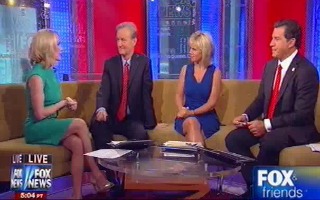 Former Bush White House Press Secretary and co-host of The Five, Dana Perino, appeared on Fox & Friends where she said the attacks on Republican presidential candidate Mitt Romney from President Barack Obama's Chicago team have not done his reelection effort much good. She said that the attacks make Obama look small and it will be more difficult for them to pivot to a positive message in the fall when undecided voters begin to determine which candidate to support.

RELATED: Axelrod: We Never Called Romney A Felon, Just Said He Might Have Committed A Felony
Perino equated the attacks on Romney by the Obama campaign to "side dishes," whereas the campaign that begins after September represents the "main course."
"Sometimes the side dishes, they might give you stomach ache," said co-host Gretchen Carlson.
"What happens, if you eat the side dishes before you get to September is you're already full so you don't want to eat the entrée," Perino said, acknowledging the tortured metaphor.
Fill-in co-host Eric Bolling introduced clips of Obama deputy campaign manager Stephanie Cutter and former White House Chief of Staff and Mayor of Chicago, Rahm Emanuel, on Sunday both telling Romney to "stop whining." Romney had demanded an apology from the President last week after several Obama campaign operatives said he could be a felon for signing documents that suggest he maintained a leadership role at Bain Capital after his official exit in 1999.
"That's one of their specialties, right," said Perino talking about the Obama campaign's attack strategy. "They hit you in the nose, and then they fade back and they're like, 'what, we were just raising questions. Why are you whining?'"
"I actually think what they did last week in this felon attack was they made the President look like a bad House candidate instead of the President of the United States," Perino said.
Perino said that true independent and undecided voters are not getting solutions from the Obama campaign and will be hamstrung moving forward because it will be more difficult to get on the front page with a positive message.
Watch the segment below via Fox News Channel:
> >Follow Noah Rothman (@Noah_C_Rothman) on Twitter
Have a tip we should know? tips@mediaite.com