Perino: Obama 'Going To Get Away With' Cover Up Of Responsibility For Libya Attack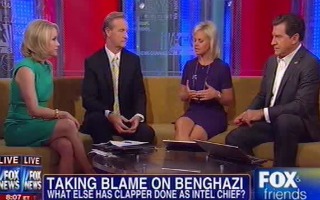 The Five host Dana Perino sounded a note of skepticism on Fox & Friends when asked if the Obama administration was going to be held responsible for broadcasting misleading information regarding their knowledge of the factors behind the September 11 Libya attacks. Perino said that President Barack Obama and his administration would "get away with" their characterization of the attacks – which have proven to be flawed – because enough time has elapsed for the intelligence community to take the fall for the appearance of deception regarding the impetus behind the attacks.

Perino opened the segment by relating the rumor among the intelligence community that Director of National Intelligence James Clapper is a "partisan" Democrat, which is why he put out a statement on Friday night taking blame for putting out early and erroneous information on the Libya attack on behalf of the Obama administration.
"If I were the press, on behalf of the American people – regardless if they're Republican or Democrat – I would try to get to some better answers as to why didn't we know, what we didn't know and why did we spread falsehoods," Perino said.
Steve Doocy put his hand to Perino's forehead and asked if she had a fever. "If you think the press is going to ask tough questions of this administration, you're nuts," said Doocy.
Gretchen Carlson asked if Clapper and U.N. Ambassador Susan Rice were working independently on their responses to the Libya attack. Perino said that she thought so. She said that, if the attack on September 11 had been thwarted, it would be national news and the administration would be touting their success.
Eric Bolling expressed his skepticism that the Obama administration's channels of communication are so segmented and compartmentalized that the DNI and the White House did not communicate in the week following the Libya attacks. "I'm not buying this, are you," Bolling asked Perino.
"I'm not, but I do think they're going to get away with it," Perino replied. She said that the intelligence community has had enough time to cover their tracks and exonerate the administration of guilt.
"They either knew what they were doing, or they did not know what they were doing," Perino concluded. "Which is worse?"
Watch the segment below via Fox News Channel:
> >Follow Noah Rothman (@Noah_C_Rothman) on Twitter
Have a tip we should know? tips@mediaite.com