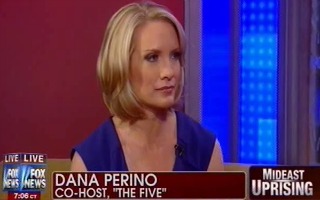 Fox News Channel's co-host of The Five, Dana Perino, appeared on Fox & Friends on Wednesday morning to discuss the newly released emails that show the White House was aware of the attack on the American consulate in Benghazi within two hours of the start of that assault. Perino praised Mitt Romney's decision not to challenge President Barack Obama about his administration's mischaracterization of the Benghazi attack because than he would be the focus of that story instead of Obama.

RELATED: CIA Linked Libya Attack To Militants Within 24 Hours, CNN Panel Points To White House Contradictions
After playing a brief clip of Sen. Saxby Chambliss (R-GA) who told Fox & Friends on Wednesday morning that the emails obtained by reporters yesterday relating to the Benghazi attack he and his Senate colleagues had requested to see but were denied.
Perino and Gretchen Carlson wondered whether these emails would finally eliminate the inflammatory YouTube video which caused protests through the Muslim world in September as the official cause of this attack.
"They want to have it every which way," said Perino. "They want to be able to say that it was the video, but it was terrorism. It's a 'who's on first' defense."
"That's why I think Romney was so smart to let it go," Perino added referring to his refusal to attack Obama on Benghazi during Monday night's debate. "Had he said something, than this would all of the sudden – Libya – be Romney's problem. Let Obama own this."
Watch the clip below via Fox News Channel:
> >Follow Noah Rothman (@Noah_C_Rothman) on Twitter
Have a tip we should know? tips@mediaite.com