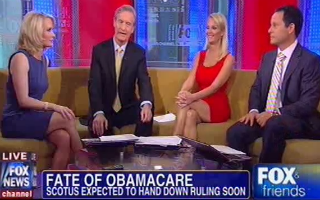 Host of The Five on Fox News Channel and former White House Press Sec. Dana Perino told Fox & Friends on Monday that she believes the Supreme Court will release their decision on the constitutionality of President Barack Obama's health care reform law today.

RELATED: Obama Administration Health Care Official Steps Down Ahead Of SCOTUS Ruling On Reform Law
"This is going to be a huge week," said co-host Brian Kilmeade. "We could, we should find out this week about Obamacare – whether it will be looked at as constitutional."
"I think the decision comes out today," said Perino. "They usually come out on a Monday and next Monday would be the last Monday."
Perino said an on-the-record quote released Friday by Justice Ruth Bader Ginsburg in which she revealed a clue about the potential ruling was "very unusual." Ginsburg warned that there would be "sharp disagreements" in the decision when it does come out.
Perino warned that there could are many ways that the Court could rule on the Patient Protection and Affordable Care Act, but that the true test would be the political response to the decision and how elected officials react.
"If it's ruled and upheld than the administration will walk away high fiving each other," said Perino. "If it's not, they will demonize the Supreme Court."
"I think today is the day," Perino concluded.
Watch the segment below via Fox News Channel:
> >Follow Noah Rothman (@Noah_C_Rothman) on Twitter
Have a tip we should know? tips@mediaite.com