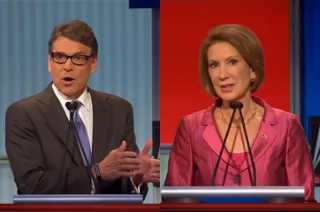 A solid 11 minutes went by during Fox News' 5 p.m. debate with the lowest-polling Republican presidential candidates before the moderators brought up "the elephant that is not the room": Donald Trump. Fox's Martha MacCallum suggested that Trump was "getting the better of" Rick Perry and Carly Fiorina, who were both given a chance to respond.
"Well, when you look at the celebrity of Donald Trump, then I think that says a lot about it," Perry said, comparing Trump to past poll leaders like Rudy Giuliani and Fred Thompson, whose campaigns both ended up imploding.
"I've had my issues with Donald Trump," he said. "I talked about Donald Trump from the standpoint of being an individual who was using his celebrity rather than his conservatism. How can you run for the Republican nomination and be for single payer health care?"
Fiorina similarly went after Trump's less-than-conservative record by delivering this prepared line that referenced some recent news about the candidate's relationship with the Clintons: "I didn't get a phone call from Bill Clinton before I jumped in the race. Did any of you get a phone call from Bill Clinton? I didn't. Maybe it's because I hadn't given money to the foundation or donated to his wife's Senate campaign."
She gave credit to Trump for tapping to "an anger that people feel" but also revealed how she would challenge him if they were sharing the same stage tonight. "Since he has changed his mind on amnesty, on health care and on abortion, I would just ask what are the principles by which he will govern?" Fiorina asked.
Watch video below, via Fox News:
[Photo via screengrab]
— —
>> Follow Matt Wilstein (@TheMattWilstein) on Twitter
Have a tip we should know? tips@mediaite.com