PETA Accuses Jay Carney Of 'Making Light of Bestiality' For Laughing At Les Kinsolving Question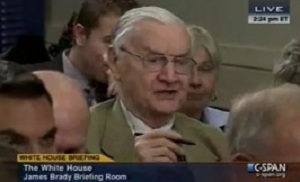 At Monday's White House briefing, Press Secretary Jay Carney tried to show a little Christmas generosity by calling on WorldNetDaily correspondent Les Kinsolving near the top of the briefing. For his trouble, Carney is now under fire from PETA for supposedly "making light of bestiality" because he laughed at, and waved off, Kinsolving's less-than-seriously-phrased question about a defense authorization bill that repealed the sodomy provision of the Uniform Code of Military Justice.
Les Kinsolving is known for his out-of-left-field questions, which he often has to shout over the protests of other reporters because Carney, and Robert Gibbs before him, rarely call on Les. That's why, when Carney called on him toward the beginning of yesterday's briefing, there were surprised murmurs, and an "Oh, my goodness" from Les.
"I'm in the holiday spirit." Carney said.
Kinsolving then asked Carney about the recent repeal of the UCMJ provision that bans sodomy, but which also included a ban on bestiality. There are a lot of interesting ways to approach this question. Article 125 of the UCMJ didn't ban sodomy and bestiality, it said they were the same thing. While Article 134 does contain language specific to animal abuse, that section refers only to "public animals," and carries a much lower penalty. There's a legitimate question as to whether additional protections for animals are needed in the UCMJ, and whether those are in the works.
Les didn't tackle the thing from any of those angles, though, instead asking Carney, "Does the Commander-in-Chief approve or disapprove of beastiality in our armed forces?"
Carney said, "Let's get to something more serious," and called on ABC News' Jake Tapper.
Tapper needled Carney, asking him, "You sure you don't want to ask Lester another question?  Give him another opportunity?"
"I've learned my lesson, Jake," Carney replied.
Carney was clearly referring to Les' straw-man line of inquiry, not the issue of bestiality. Les Kinsolving is one of those people who like to equate homosexuality with bestiality, and this outrage from the right has nothing to do with protecting animals, and everything to do with maintaining a ban on gay sex.
The issue of animal cruelty in the military itself is serious, and one that activists have been working on for a long time, but their use of the right's tactical outrage to shame Jay Carney, in an attempt to advance this cause, is shameful. In their letter to Carney, PETA said, "we were upset to note that you flippantly addressed the recently approved repeal of the military ban on bestiality. With respect, this is no laughing matter," and concluded with, "I hope that in the future, you will address important issues with sensitivity and not dismiss them with a joke."
Here's the clip from yesterday's briefing, from C-Span:
Have a tip we should know? tips@mediaite.com