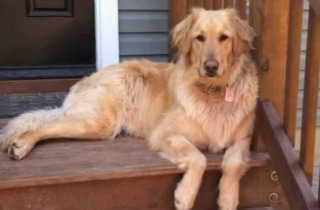 Petco has faced national criticism recently following the death of a 2-year-old golden retriever named Colby in one of their dryer cages. Allison Marks publicly described how she took him in for a grooming appointment on May 29, only to learn a few hours later that Colby had heat stroke and died at an animal hospital.
Mark's family recounted that Petco's assistant manager said a groomer had accidentally left Colby in one of the drying cages because the he had left to attend a graduation party. Colby had no health problems prior to being dropped off.
Petco released a statement to WTKR on Thursday, saying that the groomer and all other employees responsible for Colby at the time have been dismissed. "We take full responsibility for what happened in Midlothian, and remain heartbroken over Colby's untimely passing," the statement read. "Pet parents place their trust in us, and we realize that trust is earned."
Petco's statement also insisted that heat was not used in their salon dryers, but they would still be removing the unit from service in all stores next week. Marks was told by a veterinarian that Colby's body temperature was noticeably higher than normal for dogs for at least an hour after his death.
Marks told WTVR she plans on pressing charges. "I'm going to get justice for Colby," Marks promised. Local animal control is conducting its own parallel investigation.
You can watch Marks talk about Colby here, via Fox 6 Now:
[h/t CNN Money]
[Image via Screengrab]
— —
>> Follow Ken Meyer (@KenMeyer91) on Twitter
Have a tip we should know? tips@mediaite.com