Peter Beinart Blasts Bill Kristol's Hawkish 'Track Record': 'Some of Us Tried to Learn' from Iraq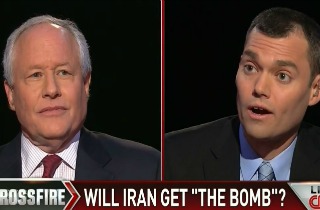 On Tuesday night's Crossfire on CNN, Daily Beast columnist Peter Beinart and The Weekly Standard editor Bill Kristol squared off over the issue of a recent framework reached with Iran designed to halt their progress towards acquiring a nuclear weapon. Beinart went after Kristol for his hawkish "track record" and insisted that he and others like him "tried to learn a lesson" from the wars in Iraq and Afghanistan.

Host Newt Gingrich opened the segment by observing that Iran's behavior and investments clearly suggest that they are developing a nuclear weapons program and a series of delivery systems. "Doesn't that bother you a little bit about the regime's ultimate intentions?" Gingrich asked Beinart
Beinart replied that it does, but even if Tehran does develop ICBMs, they would be unable to put a nuclear weapon. He added that the deal "makes the regime less dangerous."
"You tell me what's bad about this?" host Van Jones asked Kristol. He outlined the terms of the deal, which includes an inspections regime, and asked if President Barack Obama had achieved a "cleaver" outcome by inserting assets into Iran that could provide America with intelligence.
"They're not our inspectors. They're not allowed to give us intelligence," Kristol said. "That's really a bizarre – this deal is going to help the military strike? I don't think so, Van."
Jones countered that weapons inspectors in Iraq had better intelligence about that country's WMD capabilities than "you and your friends." Kristol shot back that the deal requires Iran to dismantle "nothing."
RELATED: Mediaite Morning Reading List: Everything You Need to Know About the Iran Nuclear Deal
Beinart and Kristol battled over whether the requirement that Iran "neutralize" their 20 percent enriched Uranium effectively dismantled that aspect of the program. Kristol noted that the deal does not go as far as the international community has demanded for a decade which required Iran to surrender its 20 percent uranium stockpiles.
"How effective was the Bush administration's policy?" Beinart asked. "It was disastrous."
"Iran having some low level of enriched uranium is not the threat," Beinart later asserted. "The threat is a nuclear weapon, and your strategy of no serious negotiations and continued sanctions is the most likely to get us to that nuclear weapon or to military action."
"Iran having the capacity to enrich uranium is precisely what Iran needs to get to a nuclear weapon," Kristol countered. "And they're giving up none of that capacity."
The pair exploded again when Kristol asserted that they only way to halt Iran's progress towards a bomb was "regime change or a military strike."
"Given your track record, why should we get behind you in supporting a third war in the Middle East?" Beinart asked pointedly. "Some of us have actually tried to learn from these disastrous experiences of the last decade rather than suggesting that the answer to an Iran, which is willing to negotiate over its nuclear capacity, is a third war."
Watch the clip below via CNN:
[Photo via screen grab ]
— —
> >Follow Noah Rothman (@NoahCRothman) on Twitter
Have a tip we should know? [email protected]