Peter King: Boehner Knew Shutdown Strategy 'Doomed,' But Couldn't Fight House GOP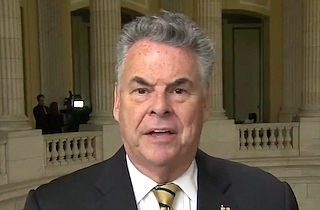 Representative Peter King (R-NY), a virulent critic of the GOP's defund-strategy from the very beginning, told Fox News Wednesday afternoon that the House GOP leaders had known the strategy was doomed but had been unable to fight the caucus committed to defunding it.
"I thought it was a misguided fight from the start," King said. "John Boehner (R-OH) and Eric Cantor (R-VA) both told us in early September that this was doomed to failure, but they had no choice because we had thirty-five or forty Republicans who insisted we follow this path."
"Once the government was shut down, it took away the edge we would have had," King continued. "If we kept the government open and debated on the debt ceiling, we could have made inroads, we could have made more cut backs on Obamacare. Over the last ten days, Obamacare has become more popular, which is ridiculous in view of the terrible start up they've had."
Rep. Peter King on House GOP: 'I Honestly Don't Know What They Want'
Host Bill Hemmer asked King about his laser-like focus on Senator Ted Cruz (R-TX). King has excoriated the Senator from Texas for weeks now.
"He was the one that was the architect of this," King said. "He said that if the House defunded Obamacare and shut down the government, then when it got to the Senate he would take care of it. He was behind the thirty or forty supporters in the House. He's the one who assumed responsibility, and he's responsible, also, for the failure."
Watch the full clip below, via Fox News:

[Image via screengrab]
——
>> Follow Evan McMurry (@evanmcmurry) on Twitter
Have a tip we should know? tips@mediaite.com