Peter King Demands Boehner Pass 'Clean' DHS Bill, Ignore 'Irresponsible' Republicans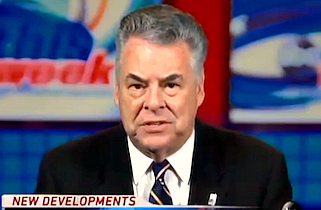 Representative Peter King (R-NY), arguably the loudest opponent of the House GOP's conservative caucus, called the group "self-righteous and delusional" on This Week Sunday morning, and told House Speaker John Boehner (R-OH) to stand up to them by passing a "clean" DHS bill, free of riders defunding President Barack Obama's immigration orders.
"There's an element within our party which is absolutely irresponsible," King said. "They have no concept of reality."
The fifty-some strong caucus squelched a vote to pass funding for the Department of Homeland Security Friday night, forcing Boehner to partner with House Democrats to pass a one-week funding extension. The House GOP's defeat by its own caucus was called "humiliating," but the chance that Boehner could advance a "clean" bill has sparked rumors that the conservative caucus could go after the speaker's job.
RELATED: Kathleen Parker Rips Conservative Caucus for Perpetual 'Amateur Hourness'
"I am opposed to the presient's immigratiopn action as they are," King added. "But it's essential that we fund the Department of Homeland Security…For these people to be threatening to defund the DHS at a time when our threat streams have never been greater than at any time since 9/11 is absolutely irresponsible. …We cannot allow such a small group to be dominating and controlling what's happening in Congress."
"John Boehner has to find a way…to bring the clean bill to a vote," King said, arguing that after the vote was behind him Boehner should then put the conservative caucus in its place.
Watch the clip below, via ABC News:
[Image via screengrab]
——
>> Follow Evan McMurry (@evanmcmurry) on Twitter
Have a tip we should know? tips@mediaite.com