Peter King Doubles Down on Garner: Loose Cigarette Laws Justified for 'Quality of Life'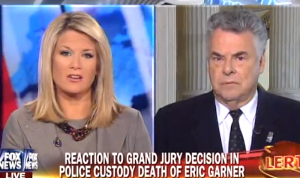 Not only does Rep. Peter King (R-NY) find all types of state violence appropriate (unless, of course, it's violence against his beloved Irish terrorists), he also believes laws against the sale of loose cigarettes are a fantastic means of ensuring "quality of life."
Appearing Thursday morning on Fox News, the IRA sympathizer who thinks journalists should be arrested for publishing government leaks reiterated his belief that excessive force was not used by the NYPD against Eric Garner.
July video of cops confronting Garner for selling untaxed cigarettes on a Staten Island street show Officer Daniel Pantaleo tackling the 44-year-old to the ground with the use of a chokehold. Garner screamed "I can't breathe" 11 times before becoming non-responsive while in custody. Rather then administer aid immediately, police stood over Garner for seven minutes, rifling through his pockets and telling others to stand back. Four EMTs were punished for their poor response upon arrival. Garner died from cardiac arrest en route to the hospital.
None of that mattered to King, however, who told Fox's Martha MacCallum: "The fact is that if you can't breathe, you can't talk. If you've ever seen somebody arrested — and unfortunately, I've seen it a few times where a person's resisting arrest — they're always saying 'You're breaking my arm,' 'You're killing me,' 'I'm dying.'"
King repeatedly referred to Garner as "Brown" — confusing him with the Ferguson, Mo., case of Michael Brown — but was not corrected. The Republican lawmaker also insisted that because there was a black senior officer on-scene, there's no way racism played a role in how the arrest went down.
Asked by MacCallum why there's even a law against selling loose cigarettes when police have much bigger fish to fry, King responded like the callous lover of all-things-state-power he is:
This goes back to the whole "quality of life" thing, that if you allow someone to flagrantly violate the law […] By him standing outside the store, he was disrupting the community, he was preventing customers from coming in, and he was selling cigarettes that people were not able to sell in their convenience stores. If you have a legitimate, legal convenience store, and you're selling cigarettes in there, and this person's outside violating the law — this goes back to what started in 1993, with the "quality of life." You can't have people spitting on your windshield, and you can't have people jumping over the turnstiles. As minor as those crimes seem, once you allow that to happen, it's a breakdown.
Watch below, via Fox:
— —
>> Follow Andrew Kirell (@AndrewKirell) on Twitter
Have a tip we should know? tips@mediaite.com