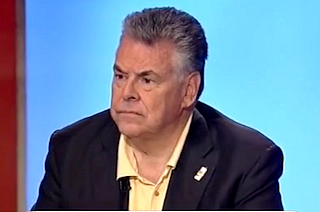 New York Congressman Peter King affirmed to Fox News Wednesday morning that President Barack Obama had the constitutional right to conduct military operations against Syria without congressional approval, but stopped short of defending Obama's intervention strategy or foreign policy in general.
"Presidents have done that consistently," King said, citing Ronald Reagan's actions in Grenada and Bill Clinton's in Kosovo. "Now, if he's smart, [Obama] would certainly consult with the House and Senate leaders, with the top people on the Intelligence Committee, the Armed Services Committee, the Foreign Affairs Committee. But he doesn't have to. As the Commander in Chief I believe strongly the president has the constitutional right to carry this out."
Host Bill Hemmer quoted Obama's statement as a Senator, in which he explicitly stated that a president does not have the right to leapfrog Congress if there is no pressing threat to the United States.
"The hardest thing to do with President Obama is to keep track of what he says from one day to the next," King said. "I'm not here to defend President Obama, I'm just here to defend the office of the presidency."
"I have real problems with the way the president has handled this from the beginning," King added. "I'm really not defending his policy. I'm saying he has the right to carry out the attack. Attacks have to be carried out. But there has to be an endgame. It can't be just a one or two or three day feel-good thing so he can soothe his conscience."
Watch the full clip below, via Fox News:
————
>> Follow Evan McMurry (@evanmcmurry) on Twitter
Image via Fox
Have a tip we should know? tips@mediaite.com