Peter King: We Need 'All-Out' Muslim Surveillance, Despite 'Moron' Civil Liberties Activists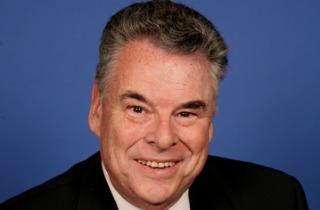 In response to this week's deadly shootings at Canadian Parliament, perpetrated by a now-deceased Muslim convert, Rep. Peter King (R-NY) believes the United States should go "all out" in its surveilling of the Muslim community, placing blame on media "morons" for the currently limited amount of spying conducted.
Appearing Thursday on NewsmaxTV's America's Forum, the Republican lawmaker declared it's not at all a "coincidence" that after ISIS militants suggested Western allies carry out attacks in North America, two assaults were carried out against the Canadian military.
King urged the U.S. to respond by heightening its domestic surveillance programs. "We can have all the technology in the world, the fact is we have to find out what's happening on the ground in these Muslim communities and we can only do that through increased surveillance," he told host J.D. Hayworth (once a congressman himself).
The New York Republican suggested the media is to blame for limiting his precious surveillance efforts:
What the NYPD used to until those moron at the New York Times editorial board, and Associated Press, the American Civil Liberties Union went after them, the fact is we have to find what people are thinking. We have to find out who the radicals are, we have to find out what's going on in the mosques which are often incubators of this type of terrorism.
And he called for heightened snooping on local Muslim communities. "With ISIS making a concerted effort to bring about these domestic attacks we have to go all out with surveillance," he said. "We have to monitor what's happening in those communities and we have to be quick to call it terrorism."
(Reminder: King supports terrorism when it's the Irish Republican Army kind.)
Watch below, via NewsmaxTV:
[h/t BuzzFeed]
— —
>> Follow Andrew Kirell (@AndrewKirell) on Twitter
Have a tip we should know? tips@mediaite.com