Petition Founder Tells CNN Democrats Should Move Convention From North Carolina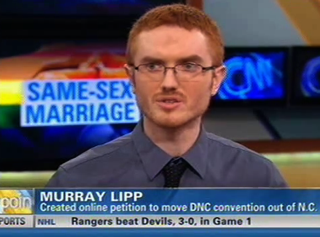 The vote to constitutionalize the ban on same-sex marriage in North Carolina, state where the Democratic National Convention is slated to occur, has outraged many who see marriage equality as a core civil rights issue the Democrats should be pursuing. On CNN's Starting Point this morning, the previously anonymous founder of a 65,000-member wide Facebook petition to get the Democrats out of North Carolina, Murray Lipp, explained the objectives of his group, and why he considered so important the issue to the Democratic Party.

RELATED: North Carolina Governor: Marriage Vote Makes State 'Look Like Mississippi'
Lipp admitted to host Brooke Baldwin that the effort was a symbolic one, to increase awareness about marriage equality and make the case for Democrats adopting it as a major platform issue: that it's popular. "My opinion has changed since this campaign began," he explained, "we recognize that the DNC is not likely to move out of North Carolina." He noted that "what is more interesting is that 65,000 people care about this issue," and that the numbers started to take off.
Baldwin explained that finding Lipp, even through Facebook, was difficult until he decided to come forward today. Answering a question from panelist Margaret Hoover, Lipp said he was not sure what the impact of President Obama's support was, or, moreover, could have been had he come out in favor of marriage equality before the North Carolina vote. "The terrible news that we heard in North Carolina," he posited, "may have been the final push President Obama needed to make this statement and come out and support equality."
The segment via CNN below:
Have a tip we should know? tips@mediaite.com