Pew Study: Cable News Networks Lean Heavily Towards Support For Gay Marriage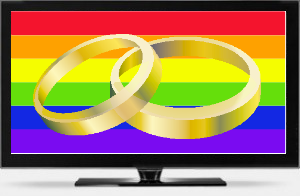 According to a recent study from the Pew Center's Project for Excellence in Journalism, the news media is more likely to present positive views of same-sex marriage than hostile ones; and the positive stories outnumber the "balanced" ones as well.
Analyzing a two-month period of coverage this year, Pew found that while many stories were neutral in tone or included a balance of viewpoints, a plurality of stories focused on support for same-sex marriage:
"Almost half (47%) of the nearly 500 stories studied from March 18 (a week prior to the Supreme Court hearings), through May 12, primarily focused on support for the measure, while 9% largely focused on opposition and 44% had a roughly equal mix of both viewpoints or were neutral."
In order to deem a story "in support" or "in opposition," the researchers had to find that the statements expressing that view outnumbered the opposing view by at least 2-to-1. As such, the study found that all three major cable networks show more supportive positions than they do negative:
MSNBC produced 30% mixed, 64% supporting and 6% opposing, among the stories studied. The coverage on Fox News was 63% mixed, 29% supportive of the measure and 8% opposing. And on CNN, the break was 57% mixed, 39% supporting and 4% in opposition.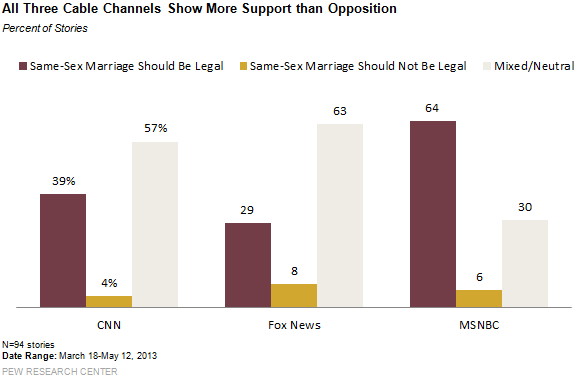 The study suggests that much of the positive coverage of same-sex marriage came as a result of covering the polling data that showed an increase in overall support for the practice, says Pew:
Many of the news stories identified as supportive of same-sex marriage focused on evidence that it was gaining more acceptance. For example, a March 19 edition of the PBS NewsHour included a three-minute edited package that discussed polls showing increased acceptance across all demographics. The same show also featured a longer piece that discussed the endorsements of same-sex marriage from people such as President Obama and Senator Rob Portman, and how younger people were at the forefront of changes in public opinion.
Read the full study and all of its findings here.
[h/t NYT]
— —
>> Follow Andrew Kirell (@AndrewKirell) on Twitter
Have a tip we should know? tips@mediaite.com