Phew! Those Unmanned EPA 'Drones' Spying On Farmers Were Really Just Manned Airplanes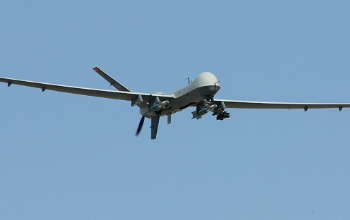 Remember that salacious story from several weeks ago that the United States Environmental Protection Agency was using unmanned drones, much like the ones used in the War on Terror, to spy on Midwestern farmers? You might have seen the story reported on Fox News on June 5th and corrected today below. It was also reported on The Daily Show, and all over the blogosphere. Well, the Washington Post reports that the story simply wasn't true — the EPA isn't using drone aircraft anywhere at all.
The story originally appeared on several blogs, picking up traction after the Drudge Report linked to an InfoWars article on the story. Fox News' America Live eventually did a report, which we covered here, featuring host Megyn Kelly and guest Stuart Varney decrying the idea that unmanned drones would be used to enforce EPA rules. Two days later, Comedy Central's The Daily Show made fun of the story in a segment named "Game of Drones."
The Post talked to Kristen Hassbrook of the Association of Nebraska Cattlemen, who said that "We've never thought that [the EPA was using unmanned drones]. We've never said that. I don't know where it came from." The group had initially launched complaints against the EPA for its surveillance, but watched as the story turned into something untrue as it moved through the Internet and cable networks.
The truth is that for more than 10 years, the EPA has flown over farmland in small aircraft, looking for clean water violations, like dirty runoff or manure dumps in a stream.
Eventually many publications, including the Daily Caller and the New American, corrected their original reports with the official response from the EPA that no unmanned drones have been used in surveillance. Fox News also began reporting that the EPA used planes, not unmanned drones.
The Post's David A. Fahrenthold sees this whole debacle as a case study in "the vibrant, almost viral, life cycle of a falsehood" in American politics.
Check out the original America Live segment below, via Fox News:
And here's Megyn Kelly's official correction from Monday afternoon's edition of America Live:
Have a tip we should know? tips@mediaite.com