Phil Griffin Defends Harris-Perry and Bashir Apologies, but Won't Let Them 'Define' MSNBC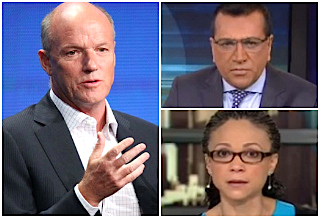 MSNBC president Phil Griffin is defending the way his network handled recent controversies surrounding anchors like Martin Bashir and Melissa Harris-Perry. In a new interview with The Hollywood Reporter's Marisa Guthrie, Griffin said, "We quickly took responsibility for them and took action." He added, "They were unfortunate, but I'm not going to allow these specific moments of lack of judgment to define us."
Griffin was referring to the incidents involving Bashir, who made some particularly harsh comments about Sarah Palin, and Harris-Perry, who joked about Mitt Romney's black grandson, along with Alec Baldwin whose show was cancelled after he was caught on tape making homophobic remarks to a member of the paparazzi.
"We handled them," Griffin said, before contrasting his network's approach to what he sees from competitors like Fox News and CNN. "We were transparent. That is our philosophy: Be factual, and step up when you make a mistake. And I don't see that among our competition, whether it's getting something wrong on a major story or when there are clear inaccuracies and they're not corrected."
The way MSNBC has taken "responsibility" has varied from case to case. For Harris-Perry it meant a tearful apology to the Romney family. For Bashir, it was the apparently "mutual" decision for him to resign.
Griffin also addressed the recent report that the various events prompted MSNBC to assign the job of reviewing all on-air scripts to producer Rich Stockwell. Just as a network spokesperson denied those claims when the were originally made, Griffin too said they were not accurate.
"We don't rely on one person to look at all scripts — there are too many scripts," Griffin told Guthrie. "Of course I've talked to everybody in the building about it — and we move on. Some of these mistakes are being played out far more inside the media world. I don't think it hurt us in any way."
Finally, Griffin attempted to clarify a statement he made last year that MSNBC was "not the place" for breaking news, which found its way into a recent full page ad for Fox.
"I did not say that," Griffin asserted. "It was in reference to CNN, that their brand is known for breaking news. And my reference was not that we don't do [breaking news], but we're not known for it in the way that CNN is. I stand by our coverage of any major news story."
Read the full interview at HollywoodReporter.com.
[photos via screengrab, THR]
— —
>> Follow Matt Wilstein (@TheMattWilstein) on Twitter
Have a tip we should know? tips@mediaite.com