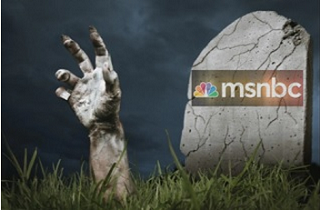 After copious chatter about his network's ratings woes since springtime, MSNBC President Phil Griffin has made a series of moves culminating in the welcome return of former 8 pm host Ed Schultz to the weekday lineup. Along with the permanent elimination of one hour of Friday night prison docs and the expansion of the weekend lineup, Griffin is loosely following the blueprint I set out for him to expand the network's audience, but like a can of off-brand ravioli, it'll fill you up, but it's not quite right.
You know those knock-off brands that they sell at the dollar store (which, in many cases, isn't really a dollar store anymore. If you sell things that cost more than a dollar, you're not a dollar store, you're just a store), like Chiropractor Pepper, or the bad ideas that still get sold overseas, like Battlester Galactica-themed Frackaroni and Cheese? Phil Griffin's adherence to my plan is kind of like that.
In June, I noted that among the many causes of MSNBC's ratings woes, the poor programming decision to jettison Ed Schultz, then leave a two-week hole in the schedule for Chris Hayes to build on, were among the factors that were in Phil Griffin's control. One suggestion that I made was to cut Hardball to one evening airing, which Griffin has done by moving Ed Schultz to 5 pm. I didn't suggest Ed specifically, because I didn't know that was on the menu, but the reaction to his weekend move shows that he has a loyal, vocal following. Whether he was pushed onto weekends, as some have suggested, or moved there mutually, this move has to be sweet vindication for Ed.
However, I would have kept the 5 pm Hardball, and put Ed at 7 o'clock. First of all, Ed is a much better fit as a transition from Rev. Al Sharpton's PoliticsNation to Chris Hayes' All In, which has established a creative foothold that creates a seamless block of progressive-leaning programming. Chris Matthews is like a big caffeine spike in the middle of that road, and the guests he books are much better suited to an earlier hour, where there's still time for his interviews to make it into the news day's bloodstream.
I also suggested that Griffin begin to program weeknights at 11 pm, with an edgy, pop culture-oriented host to till the dead late-night soil into a buzzworthy little garden. Instead, he hired Alec Baldwin to host a Fridays at 10 pm show, a timid step in that direction. The whole idea of late night pop culture programming is to capture younger viewers, and Baldwin, baggage aside, isn't exactly cutting-edge. Perhaps the format of his show will be somehow revolutionary, but if Phil is still mulling the idea of programming 11 pm, I'd suggest something along the lines of an MSNBC-ized version of Tough Crowd, one of the best shows ever canceled off of Comedy Central.
Now that Ed's weekend slot is open again, Phil should use that as an opportunity to develop a new talent, rather than add back another hour of Caught On Camera snuff films. As the summer draws to a close, the upcoming elections are prematurely heating up, and conditions may soon be right for a big ratings comeback for the network. Bringing Ed back to weekdays is a good first step, but MSNBC is obviously still leaving lots of viewers on the table. Barbecue Shrimp Ramen Noodles aren't gonna cut it.
Have a tip we should know? [email protected]