Phil Griffin Names Denis Horgan Executive Producer Of Untitled Chris Hayes Show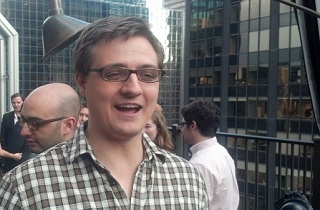 To be clear, MSNBC President Phil Griffin didn't name Denis Horgan, that was already his name. He named him executive producer of the forthcoming 8 pm Chris Hayes show, which hasn't been named yet. The show, that is, not the executive producer. Horgan comes from MSNBC's digital team, and has had a hand in the creation of several MSNBC shows, including Hayes' old show. With the naming of Horgan (as executive producer), the pieces are falling into place for MSNBC's 8 pm offering, while keeping the steady hand of Jonathan Larsen at the helm of the now-Steve Kornacki-led Up.
From MSNBC's press release:
Denis Horgan has been named Executive Producer of the new Chris Hayes program, which will debut on April 1 at 8 p.m. ET on MSNBC. The announcement was made by Phil Griffin, President of MSNBC.

"Denis is a creative force and I look forward to working with him and Chris at 8 p.m.," said Griffin.

"I am a good friend and a great fan of Chris Hayes, and I can't wait to put this show on TV ," said Horgan.

Over the past three years, Horgan has been a key member of Phil Griffin's team, helping with the creation and development of several MSNBC programs including "The Last Word with Lawrence O'Donnell" and "UP with Chris Hayes", and has worked closely with most of the programs in the MSNBC lineup while playing a key creative role in the development of MSNBC's digital strategy. Horgan originally joined MSNBC in 2003 as Senior Producer of "Countdown with Keith Olbermann."

From 2007-2010, Horgan served as Vice President of Community Development at TopCoder, Inc. where he managed and grew a global online community of 300,000 programmers, developers and graphic designers. He began his career at ESPN Radio Network where he served as Senior Producer for a number of programs including "The Tony Kornheiser Show".

Horgan is a graduate of the University of Hartford's College of Arts & Sciences.
I met Horgan once, at an event for the release of Chris Hayes' book, Twilight of the Elites. As you might expect, he was an enthusiastic booster of MSNBC, with an evangelical fervor approaching that of network head Phil Griffin. As I recall, he had an excellent grasp of the steps it took to build to the success that MSNBC now enjoys, including Griffin's push for new talent, which will be key to his new position.
Horgan's move also wisely leaves Jonathan Larsen in place as Up (now with) Steve Kornacki's executive producer, which will go a long way toward continuing the success that show has built on weekends. The production and mix of guests are key ingredients to that show's alchemy, and Kornacki is a good match for the show's format and temperature.
That still leaves Hayes' show without a name, and unfortunately, both The Chris Hayes Show and The Chris Show have an awkward Rural Juror thing going on. After rejecting a few ideas (Straight Hayes? Hayesed and Confused? Chrissed Off?), I've settled on Hayes O'Clock, with the tagline "It's Hayes O'Clock: Do You Know Where Your Politics Are?"
Have a tip we should know? tips@mediaite.com