Piers Grills Man Raising Money For Zimmerman Gun: 'You Would Sleep Soundly' If He Kills Someone Again?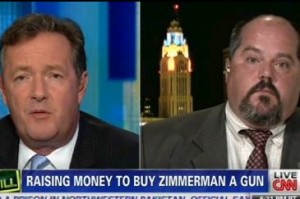 After George Zimmerman was found not guilty for the murder of Trayvon Martin, there was an effort by the Buckeye Firearms Foundation to raise money to get Zimmerman another gun. They raised over $12,000 for Zimmerman, and on CNN tonight, Ken Hanson defended his group's aim to Piers Morgan, who repeatedly confronted him about how he would feel if Zimmerman went out with his gun and shot someone again.
Hanson explained it wasn't just a gun they got for Zimmerman, it was ammunition, training, personal protection, and a few other things so he could defend himself and his family. Morgan asked, "Have you offered to do the same for the family of Trayvon Martin?" Hanson replied, "I'm not aware of any threats against Mr. Martin's family."
RELATED: Atty. Mark O'Mara: Zimmerman Will Get His Gun Back, Has 'Even More Reason Now' To Carry It
Morgan told Hanson many people are obviously concerned about Zimmerman having another gun, and asked him point-blank, "What if he does it again?" Hanson told Morgan if Zimmerman had to use his gun in self-defense against someone bashing his head in again, "That's incredible bad luck that he found himself in that situation twice, but we'll sleep soundly."
A baffled Morgan asked, "You would sleep soundly"? Hanson affirmed what he said.
Morgan continued pressing Hanson about whether this says something about Zimmerman's responsibility for his actions. Hanson told Morgan that "we can go through all the hypotheticals" and remarked that no one complained when his group helped out a pro-gay gun rights group and an anti-gun legislator who received death threats, but in the Zimmerman case "the villagers have gone out with the torches and the pitchforks" and made it all about race.
Morgan confronted him over Stand Your Ground, the need to defend yourself in dangerous situations, and whether he believes less guns would mean less situations like that. Hanson argued that no matter who writes what on pieces of paper, criminals will still find ways to attain guns. They tussled over the effects of assault weapons bans and countries with strict gun laws and low gun deaths, before Morgan concluded, "Words fail me too."
Watch the video below, via CNN:
—–
Follow Josh Feldman on Twitter: @feldmaniac
Have a tip we should know? tips@mediaite.com
Josh Feldman - Senior Editor