Piers Grills Robert Zimmerman: 'You Actually Think Trayvon Was Going To Beat Your Brother To Death With Bare Hands?'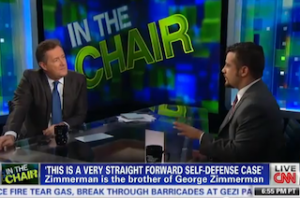 At the end of the second day of jury selection in the George Zimmerman murder trial, the defendant's brother Robert Zimmerman, Jr. returned to his now familiar seat next to Piers Morgan on CNN to discuss the case. Zimmerman told Morgan that his family has been under "constant threat" and indicated that he does not regret that George was carrying a gun the night he killed Trayvon Martin.
Zimmerman acknowledged that cases can be won or lost on jury selection, but given the "constant threat" he feels his family has been under, he worries for the safety of the jurors, who will not be sequestered. Continuing his accusations against the press, Zimmerman said, "I'm sure the media will be interested in finding out who these jurors are and I'm very concerned their safety could be compromised."
Morgan asked Zimmerman about his brother's massive weight gain while he awaits trial, and Robert chalked it up to "stress." He said, "I think George put on the weight because of stress," noting it's not easy to be "the most hated man in America," as Morgan himself once put it.
"Obviously if George had not had a gun on him that night, the distinct likelihood is that Trayvon Martin would still be alive," Morgan said. "Does he regret now carrying a gun around?"
While he wouldn't speak for his brother, Zimmerman said he "absolutely" does not regret that George had a gun that night. He suggested that if George had not been carrying a gun, he might not be alive today.
That caused Morgan to challenge the notion of self-defense on which the case rests. "Do you actually think that Trayvon Martin was going to beat your brother to death?" Morgan asked, noting that the young man was only carrying a pack of Skittles.
Zimmerman shot back that evidence shows Martin "enjoyed fighting," "enjoyed beating people until he saw enough blood." He added that Martin had an "interest in guns, marijuana plants, drugs." When Morgan pushed back, reiterating that if George hadn't had a gun, both men would have likely walked away from the incident, Zimmerman pointed to Martin's "proven propensity for violence." That will be up to Zimmerman's defense team to "prove," but that doesn't mean it will change the reality of what happened that night in Sanford, Florida.
Watch video below, via CNN:
—
>> Follow Matt Wilstein (@TheMattWilstein) on Twitter
Have a tip we should know? tips@mediaite.com