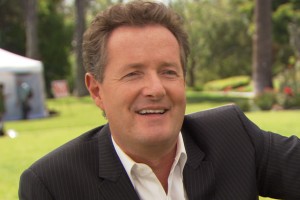 Fantasy football is played by an estimated 20 million people in North America. One of them, just by chance alone, had to be Piers Morgan.
Morgan, the host of Piers Morgan Tonight, played in his first fantasy football league this year with some fellow CNN employees and crew from his show. For those not in the know, the idea behind fantasy football is, essentially, drafting NFL players with a group of friends, and getting points when they do well in their games. If, for instance, Vikings running back Adrian Peterson scores a touchdown and he's on your team, you get points for the score. Morgan's team, "GoonerPower," not only made the playoffs (which begin for most fantasy football players this weekend), but almost ended the regular season atop the standings. This is incredibly hard to do, especially for a rookie.
"These Americans I work with don't appreciate actual football," Morgan, a soccer fan, says. "I joined their fantasy 'football' league anyway."
The secret to his success? "After autodrafting a team and making zero changes during the year," he tells us, "I've made the playoffs as the two seed."
"Autodrafting" is when you let the computer use pre-determined rankings to select your team, making Morgan's feat even more insanely impressive. We asked Scott Engel, a fantasy expert at RotoExperts.com and host of SiriusXM's morning drive show on their Fantasy channel, to assess Morgan's success. He said the host's fantasy prowess may be more luck than skill.
"This is very surprising, that he wouldn't make any changes at all and still finish as the second seed. That simply does not happen in the leagues I come across," Engel tells Mediaite.
So Morgan is either a preternaturally talented fantasy football player, or he's due for his luck to run out very soon. While Engel seems almost upset that Morgan has reached such fantasy heights so quickly (as a fantasy expert, not as a media analyst), Morgan, who calls this, "quite the fantasy," is simply enjoying the ride.
(Image credit: Access Hollywood)
Have a tip we should know? [email protected]