Piers Morgan and Ben Ferguson Battle Over Guns for the Blind: Blind People Aren't 'Stupid'!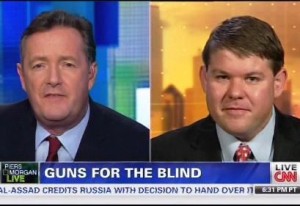 Do you think blind people owning guns is a good idea? Piers Morgan doesn't, and in fighting with conservative radio host Ben Ferguson on Twitter over it, he mockingly suggested Ferguson should get fired at by a hundred blind people with guns. Morgan and Ferguson faced off Thursday night on Morgan's CNN show, continuing their fight over whether blind people should be able to wield guns or not.
In question was Iowa now allowing gun permits for the blind, with Morgan starting off with, "You can't be serious!" Ferguson argued arming blind people from the self-defense point of view, noting that a fair amount of people declared legally blind in the eyes of the government can actually see pretty well. He told Morgan, "You're implying that blind people are somehow less than you are because you can see," saying blind people aren't "stupid."
RELATED: Piers Morgan Clashes With Ben Ferguson Over Background Checks, Infants Getting Their Hands On Guns
Ferguson wanted to know how else they could defend themselves from home invaders, but Morgan was far more concerned they might confuse a neighbor for a burglar and start firing away. When pressed, Morgan said he would tell them to call the police. Morgan brought up an interview he did with Stevie Wonder where Wonder said it would be "crazy" for someone like him to have a gun. Ferguson shot back that Wonder has security guards so he doesn't need a gun anyway.
Ferguson insisted that blind people aren't "dumb" and they understand what kind of guns are best for them, telling Morgan he's being "absurd" to suggest he wants blind people armed to the hilt with automatic weapons.
Watch the video below, via CNN:
[photo via screengrab]
— —
Follow Josh Feldman on Twitter: @feldmaniac
Have a tip we should know? tips@mediaite.com
Josh Feldman - Senior Editor