Piers Morgan And Dana Loesch Clash Over Benghazi, Whether Clinton Should Have Been Fired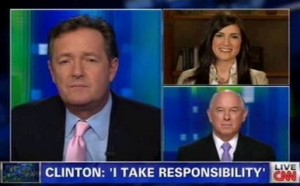 All anybody has been talking about in the past day has been the long-awaited testimony of Secretary of State Hillary Clinton over the circumstances surrounding the attacks on the U.S. consulate in Benghazi last September. Piers Morgan got heated with panelist Dana Loesch on his show over how serious the Benghazi scandal is, the hypocrisy of the Republican party in investigating it so vigorously, and whether Clinton should have been fired over her role in the scandal.
RELATED: Hillary Clinton Goes Off On GOP Senator Johnson During Benghazi Hearings
Morgan told former Assistant Secretary of State P.J. Crowley he was struck by the apparent "misogyny" in the criticism of both Clinton and U.S. ambassador Susan Rice, calling it more "incestuous and Washington-orientated" than being done in the name of the public good. Crowley acknowledged there are legitimate criticisms involved in the scandal, while defending the answers Clinton provided during her questioning.
Morgan brought up the criticism thrown out by Senator Rand Paul that Clinton should have been fired by the president. Loesch agreed with the sentiment and dismissed Morgan's claim that asking serious questions of top female officials in the Obama administration is misogynistic. Morgan brushed past that to push back against Loesch on the idea that Clinton should be fired, asking why the same wouldn't apply to Condoleezza Rice and other members of the Bush administration.
Loesch dismissed the comparison between the Benghazi conflict and anything that happened under the Bush administration. Morgan repeatedly pressed Loesch to defend her claim, asking her how she can think a misreading of intelligence in the Benghazi case is comparable to misreading intelligence that led the United States to war ten years ago. An exasperated Loesch tried to keep the conversation on the Obama administration scandal rather than rehashing the same arguments about WMDs in Iraq.
Morgan allowed that there are "legitimate questions" to be asked in the Benghazi hearings, but argued it has not been "proportionate" and the GOP needs to remember what happened when they held the White House. Loesch insisted it was "deliberate misleading" on the part of the Obama administration, while Crowley doubted that anyone in the Obama administration intentionally lied or misled the public.
Watch the video below, courtesy of CNN:
—–
Follow Josh Feldman on Twitter: @feldmaniac
Have a tip we should know? tips@mediaite.com
Josh Feldman - Senior Editor