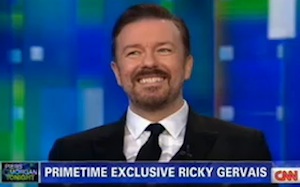 Comedian Ricky Gervais sat down with fellow Brit Piers Morgan Thursday and had a lively conversation on life, love, Twitter, politics and religion.
"How does your atheism, that you are passionate about, play with your American audience given that so many people in America are God-fearing people?" Morgan asked Gervais. "They shouldn't," he replied. "Why should they take offense that I don't believe in their God or any other God?"
RELATED: Jon Stewart's Interview With Ricky Gervais Devolves Into Hysterical 'Pandas F**king' Routine
"Tell me the reasons you don't believe in all the other Gods," Gervais continued. "And that's the reason I don't believe in yours. I have nothing against people who believe in God. In fact, if it did make you a kind of person, if you are into good things in his name, then great. There's the rub, it's when I see some of these religious fundamentalists saying that they've told their 5-year-old children, that if they turn out gay, they will burn in hell. That to me is child abuse. That has nothing to do with religion or spirituality. That's child abuse."
Earlier, Morgan teased the comedian for being late to Twitter, and asked how he became so obssessed with it.
"It's the whole of humanity in your pocket, the best and worst of the world," Gervais replied. "There are brilliant people out there and people that shouldn't be allowed sharp objects. I treasure them both."
Watch the interview below via CNN:

Have a tip we should know? tips@mediaite.com