Piers Morgan Asks Ann Coulter A Series of Personal Questions. It Gets Awkward.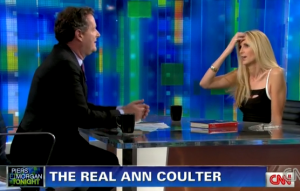 CNN's Piers Morgan has a background in tabloid journalism, so naturally he would not shy away from asking about people's personal lives. He asked Condoleezza Rice about being single and Donald Rumsfeld to weigh in on the human wrecking ball that is Charlie Sheen.
So it's not exactly surprising that when he asks a guest who never talks about their personal life a series of increasingly personal questions, things get awkward really quickly.
Case in point, Ann Coulter's appearance on Morgan's show last night.
After being probed about her marital status and driver's license controversy, she said, "I will not be answering private life questions. That's why we call it a private life." Succinct, definitive answer.
But not for Morgan, who wanted to know why Coulter did not want to talk about herself. She jokingly answered that her life wasn't that interesting and she would rather discuss her book and other writings. If she was offering him an out, Morgan didn't bite, and proceeded to ask her a hypothetical question, hoping to highlight her personal views on gay rights.
If you had a daughter or son who came to you and said they were gay, how would you feel?"
Rather than directly answering the question, Coulter asked Morgan what his response would be. He admitted he would be fine with it, and tried asking her again. She deadpanned, "I can't imagine being married."
Morgan found this answer rather amusing, and tried to once again ask Coulter about her three past engagements. When Coulter seemed to hint that this information was incorrect, Morgan asked her if it was true. She responded, "Who knows? I don't keep count."
Once again, she desperately tried to steer Morgan back to the issues she raises in her writings. The host saw this as his cue to bring up some of her most provocative quotes over the last decade or so. He read her one-liners about Timothy McVeigh bombing the New York Times building and wishing that John Edwards "had been killed in a terrorist assassination plot." (In hindsight, this may have been one of the nicest things anyone's said about John Edwards of late.)
Coulter described these quotes as her "greatest hits." Morgan threw out the word "grotesque" as an alternative, which is when the segment began to gain steam. She seemed almost ecstatic to be defending herself against the mainstream media. In another part of the interview, Morgan and Coulter had a heated exchange over the tea party movement where Morgan appeared to be questioning the relative intelligence of the movement's members.
Piers Morgan lives for personal interest and celebrity scandal. He starts Twitter feuds at least once a month. He invited Larry King back to his old timeslot because of comments he made about Morgan's program. He managed to book Charlie Sheen on the show hours before the broadcast and spread the word through social media. This is what he enjoys.
Not sure if we can say the same for his guests…but it does make for some very compelling television.
Watch the discomfort below:
Have a tip we should know? tips@mediaite.com
Josh Feldman - Senior Editor