Piers Morgan Asks Guests: Did Police Use 'Excessive Force' in Capitol Hill Shooting?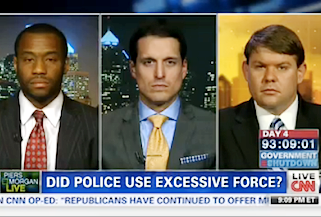 One day after police shot and killed 34-year-old Miriam Carey after she led them on a high-speed chase through Capitol Hill in Washington, D.C., Piers Morgan assembled a panel of guests on CNN to ask whether they used "excessive force" when they brought her down.
Commentator Ben Ferguson began by giving the police the benefit of the doubt, saying, "you're dealing with a woman that was at the White House, clipped an officer and then goes off. We don't know if this is a distraction for a terrorist attack, we don't know if she has a bomb in her car." He added, "If she would have been someone with a bomb in the car, people would have said they didn't take her out soon enough."
Next, criminal defense attorney Danny Cevallos weighed in, pushing back on Ferguson's speculation about a potential bomb in the car. "We cannot approach all of law enforcement with the idea everybody could have a bomb," he said.
For his part Morgan said his "instinctive reaction" once he found out more about Carey's mental state was "Wow, this maybe didn't need to happen. You didn't need to shoot her dead."
Marc Lamont Hill said that in hindsight he may feel sympathy for the woman, but he can't see how police would be able to feel that way in the moment. "I'm not willing to give the police the benefit of the doubt without an investigation, but I'm also not willing to say the police did anything wrong just yet."
After playing the clip of another incident in which a man opened fire on police after getting stopped, Morgan said, "You can understand perhaps, in a country swimming with guns, that the police are going to be twitching in that situation."
Watch video below, via CNN:
[photo via screengrab]
— —
>> Follow Matt Wilstein (@TheMattWilstein) on Twitter
Have a tip we should know? tips@mediaite.com