Piers Morgan Asks Bachmann If She Is 'Too Dangerous' For Romney Administration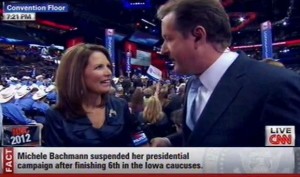 Piers Morgan spoke on the floor of the Republican National Convention earlier tonight with Congresswoman Michele Bachmann. Bachmann had initially cancelled on Morgan last night, but one of her spokespeople said she was merely feeling sick. The congresswoman affirmed her support of Mitt Romney and Paul Ryan, touting their support of "tea party principles." Morgan asked Bachmann if, given her controversial record, she would be "too dangerous" for a potential Romney administration.
RELATED: Piers Morgan Takes On Bachmann Over Similarities Between ObamaCare, Romney's MA Plan
Bachmann said that she would have liked to speak before delegates during the GOP convention, but she's content to be part of the crowd and support the Romney/Ryan ticket. In response to Morgan's question about whether she would be "too dangerous" for Romney, Bachmann said she is "in line" with the presidential candidate on important issues like the size of government.
Morgan brought up the national controversy over Congressman Todd Akin, and Bachmann immediately accused Morgan of regurgitating "Obama talking points." She did not directly address Akin's controversial comments over rape and abortion, but did say that the Republican party believes in "freedom of opinion." Bachmann argued that Romney would be better for female voters than President Obama, citing economic issues like the price of gasoline.
Bachmann said she expects a great speech from Paul Ryan, and dismissed Morgan's suggestion that Chris Christie was using his speech last night to promote his own potential 2016 run. When Bachmann praised Ann Romney's speech, Morgan said he agreed with Bachmann, which he remarked as "unusual" for him. The interview ended with an awkward half-hug between the two of them.
Watch the video below, courtesy of CNN:
—–
Follow Josh Feldman on Twitter: @feldmaniac
Have a tip we should know? [email protected]
Josh Feldman - Senior Editor