Piers Morgan Battles S.E. Cupp, Van Jones Over Guns for the Blind: 'You've Gone Stark Raving Mad!'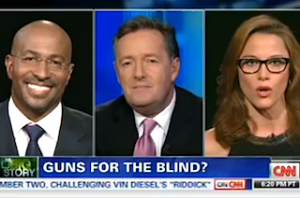 Piers Morgan has been expressing his disbelief over a recently passed Iowa law that will allow the legally blind to obtain gun permits all week on Twitter. But last night he made the issue a centerpiece of his CNN show, with Crossfire's S.E. Cupp and Van Jones battling over if and how it might be possible to arm the blind.
After Cupp laid out her support for the Iowa bill for protecting "law-abiding people," Morgan came back at her. "I love your work and I love your style," he said to her, "but when somebody like you, with you with your intelligence, looks at me down the camera and says 'blind people having guns is not an issue,' I think you've gone stark raving mad."
"It's not your fault for not knowing this," Cupp responded, "most people who talk about gun control don't really know much about it, but most gun owners have to take safety classes and are incredibly responsible with our firearms. And a blind person, who might not all the way be completely blind by the way, would have to go through the same kind of training and safety courses, both on how to shoot his gun, use his gun, keep his gun, protect his gun, secure his gun."
"But they can't see!" Morgan replied.
Jones wasn't much more helpful to Morgan, saying, "On first blush, it does sound totally preposterous and ridiculous." However, he added, "There should be standard. And if somebody who's been classified as blind can meet that standard, I think there is no problem." But his main point was that "the big problem in America is not too many blind people have guns. The big problem is there are too many kids out here in the community who have no hope, who have no role models, who have no economic future."
Cupp agreed with Jones' sentiment, but also added that the Second Amendment should protect the legally blind just as it protects everyone else. "It does not say you have the right to bear arms if you can shoot them well," she said.
"I cannot imagine that any of the Founding Fathers, who were hugely intelligent people," Morgan responded, "sat there and thought, 'Yes, it is perfectly correct and reasonable that somebody who's blind should be able to buy an AR-15 at Walmart,' for example." When he pointed out that we don't allow blind people to drive cars, Cupp said that's because there's no "constitutional right to drive a car."
Cupp accused Morgan of wanting to change the Constitution, a charge he happily accepted. "I do, because guess what?" he said. "It's already been amended numerous times." He added, "I'm not against blind people. I love blind people. I don't want them armed to the teeth."
Acting as peacemaker, Jones said, "We don't have a federal constitutional right to vote and we don't have a right to a quality education. If we're going change the Constitution, I think those are bigger problems than your blind person thing. That's just me."
Watch video below, via CNN:
[photo via screengrab]
— —
>> Follow Matt Wilstein (@TheMattWilstein) on Twitter
Have a tip we should know? tips@mediaite.com