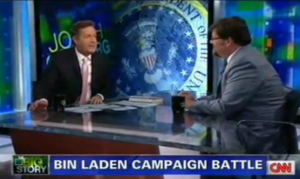 Piers Morgan had a fiery meeting with Jonah Goldberg, editor at large of National Review Online, on Monday night. The two vehemently disagreed on the controversy over President Obama's Osama bin Laden ad — and how Obama is campaigning on the issue. Goldberg insisted he's not criticizing the president's handling of the raid, but rather his attack on Mitt Romney. On the other hand, Morgan argued that Romney wouldn't act any differently were he in the president's shoes.
Goldberg said the Romney aspect of the ad is "reprehensible." I have no problem with Obama campaigning on the bin Laden success, Goldberg said. The problem, he said, is what John McCain said: that he's using it as "a cheap political attack" — especially given that he's criticized Hillary Clinton in the past for trying to score political points by invoking bin Laden.
It was "stupid" of the White House to do this, Goldberg said, because instead of them touting how great the president is, we're sitting here arguing about this ad. Morgan argued that the reason Romney entered the picture is because he'd gone on the record saying the mission wasn't worth the money. Apples and oranges, Goldberg said: Romney was referring to the War on Terror in general.
In the larger context, Goldberg said he doesn't understand why we didn't capture bin Laden — to which Morgan replied that it doesn't make sense that Republicans, "a patriotic bunch," would try to criticize any aspect of the work and decision-making that went into this process. Why shouldn't he run an ad "saying, 'This is what we did, we were right to do it'?" Morgan asked.
"I'm not criticizing," Goldberg pressed. Morgan challenged him to name "one other single foreign policy decision that barack obama could have taken in this term that could be bigger" than this raid. Goldberg replied, "I don't know, figuring out a way to stabilize the government in Pakistan. There are all sorts of decisions to make. Figuring out a deal with the Middle East."
The decision was good, but the ad was stupid, he said. He stepped "on his own presidential message," Goldberg said. Morgan asked Goldberg whether he thinks Romney wouldn't capitalize on such a success, but Goldberg argued that Morgan's characterization was inaccurate.
Morgan said eight years of a Republican administration "led to a financial collapse" — but Goldberg argued that Obama "spent much, much, much, much more money than the Republicans."
He added, "I think the debate of standing on a soap box and waxing about how much this operation costs is cheap." Morgan said he's playing devil's advocate. Goldberg said he "didn't chuck out" any figures, but that Morgan "begged" him for an answer. "That's good journalism, isn't it? Isn't that the point of an interview?" Morgan asked.
Goldberg replied, "You're cross-examining me, you're not interviewing me."
Morgan then pivoted to the debate over Obama's "coolness." He has every right to do it, Goldberg said, but "at the same time I do think some of that act is wearing thin. You can only be cool so long in American life."
I'd much rather have a dorky president who can fix all the problems we have, than a cool president who just talks about them, Goldberg said. Asked whether Romney is a dork, Goldberg replied, "He's a stiff, sure."
Following his appearance, Goldberg tweeted some thoughts, none too pleasant:
Want to throw a beer bottle at the TV? Watch Piers Morgan tonight.

— Jonah Goldberg (@JonahNRO) May 1, 2012
I swear to all that is holy, that I went in expecting a reasonably normal conversation. Had I known, I would have reacted differently.

— Jonah Goldberg (@JonahNRO) May 1, 2012
At the end of the day, @piersmorgan proved the point of my book (which he didn't read): liberals lie about being liberals.

— Jonah Goldberg (@JonahNRO) May 1, 2012
Then on National Review Online he went on to say:
So, I was on Piers Morgan's show on CNN tonight. It was a shameful spectacle. He pretended to be a serious interviewer and I spent far too long pretending he was one too. My apologies to everyone who tuned in. I will have a more comprehensive response tomorrow on the Tyranny of Cliches blog.
Take a look, via CNN:

Have a tip we should know? tips@mediaite.com