Piers Morgan Berates Sheriff For Telling Citizens To Arm Themselves: You Want 'Return To The Wild West'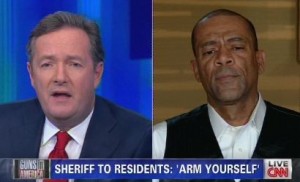 Another day, another heated gun segment from Piers Morgan. Tonight Morgan took on Milwaukee sheriff David Clarke Jr., who suggested earlier this week that instead of "calling 911," citizens should arm themselves. Morgan scolded Clarke for his suggestion, repeatedly asking Clarke to back up his argument with statistics over gun owners successfully defending themselves. At one point, Morgan berated Clarke and told him that what he is advocating marks "a return to the Wild West."
RELATED: CNN's Carol Costello Battles SC Sheriff Who Refuses To Enforce Any 'Unconstitutional' New Gun Laws
Morgan told Clarke that by using a "Hollywood voice" a la John Wayne which took away from the real life seriousness of the situation. Clarke then responded to Milwaukee mayor Tom Barrett, also on the CNN panel, who criticized Clarke for sounding "irresponsible." Clarke pointed to a lack of resources available to him, some a result of the mayor's policies, and how not all 911 calls are responded to in a swift manner.
Morgan directly asked Clarke how many instances there have been of people in Milwaukee defending themselves with firearms. Clarke said he does not have statistics, to which Morgan responded, "You haven't got a clue, have you?" He berated Clarke for his irresponsible statements, citing an instance of a Milwaukee woman who fired a gun in front of a house and tried to get out of trouble by pointing to what he said.
"You want to arm everybody in Milwaukee. You do these racy Hollywood-style adverts, you want them all out there, armed and shooting… What you're creating is a return to the Wild West in Milwaukee. So I think it's actually relevant that you don't have any idea how many people actually need a firearm at home to defend themselves."
Clarke asked Morgan, "Are we going to have an honest exchange here or are you just going to talk over me?" He insisted it's a "personal choice" whether or not someone decides to own a gun to defend themselves, to which Morgan shot back by saying it goes beyond personal choice for a sheriff of any city to advocate citizens arming themselves.
Watch the video below, courtesy of CNN:
—–
Follow Josh Feldman on Twitter: @feldmaniac
Have a tip we should know? tips@mediaite.com
Josh Feldman - Senior Editor