Piers Morgan Chats With Rick And Karen Santorum About Campaign Regrets, Endorsing Romney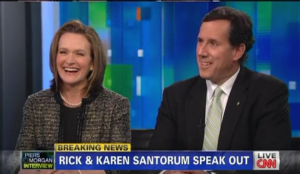 On Tuesday night, Piers Morgan sat down with Karen and Rick Santorum in the former GOP hopeful's first interview since dropping out of the race. They covered everything from campaign gaffes and Karen's reactions to them, to, of course, his as-yet-unofficial endorsement of Mitt Romney.
On Romney's speech Tuesday night, Santorum said he struck the right tone. "I think he painted a strong picture. It's one that's a clear contrast to what this president's brought this country," he said. Despite having once been his opponent, Santorum said the goal is to defeat President Obama, and he would support that. "This is about making sure we have the right person in the presidency, in the House and the Senate," Santorum said. "I believe he's the better — obviously I believed I was the better choice. But I'm not in the race anymore."
Morgan observed, "Unless I'm mishearing things, you just endorsed Mitt Romney" — a charge Santorum jumped around, saying he'll be meeting with Romney soon, and then we'll see.
Moving on to Santorum's own campaign, Morgan asked whether Santorum regretted that the conversation became largely about abortion, gay marriage and other such social issues: "You became that go-to guy for the, I hate this, I hate that, I hate this. You became nanny Santorum. Do you regret that was the way you were perceived?"
Santorum said he talked about all the issues, facing them head on. He said:
I had an obligation to answer straight up. That sometimes gets you in trouble. A lot of folks in political life pivot when they get those questions. I was a center in basketball, that was the pivot position, but I wasn't good at it. I went straight to the basket every time.
Karen added, "What I love is that Rick answers the questions" — unlike many who avoid giving answers in interviews.
In terms of gaffes, the one they most regret, Rick said, was the "snob" comment (regarding Obama's thoughts on college). "I misread his comment," he said, noting that he read an interpretation of it, not realizing what Obama was actually saying.
Morgan got more personal, asking how his wife dealt with his mistakes. Noting her "nice, quiet" demeanor, he asked whether voices got raised. "You know how when you're married you're always there for each other and you give each other advice," she said, with her husband was grinning beside her. The debates, and the one in Michigan specifically, she said, caused them to have "moments."
Later in the segment, Morgan asked about their daughter, Bella, who was ill, forcing Santorum to step off the campaign trail twice. Bella's in good health now, they confirmed, with Karen adding that ObamaCare's potential effect on children like Bella was the last straw that convinced her to support her husband to pursue the Republican nomination.
Morgan circled back to the endorsement issue, saying many agreed that Santorum did, indeed, endorse Romney in the earlier part of the interview. Santorum maintained his noncommittal stance saying he would support anyone who won the nomination.
Take a look, via CNN:

Have a tip we should know? tips@mediaite.com