Piers Morgan Clashes With Guest Over Whether It Is Appropriate Time To Discuss Gun Control
Piers Morgan Clashes With Guest Over Gun Control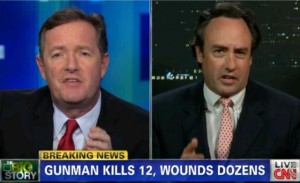 On his CNN show tonight, Piers Morgan brought up the issue of gun control in the wake of last night's shooting in Aurora, Colorado. One of his guests, law professor David Kopel, told Morgan that is not an appropriate time to have such a discussion, and said he should wait a few days for more information to come in. Morgan shot back by explaining what the shooter got his hands on and told Kopel not to "patronize" him for raising questions about what the shooter was able to legally acquire.
RELATED: MSNBC Politicizes Dark Knight Shooting With Long Gun Control Segment
Kopel told Morgan, "I really wish you'd waited to have this segment 'til after the funerals." Morgan challenged him by arguing that it was really too late to have the right discussion, because it should have taken place before the shooting happened.
"When you have a young man like this able to legally get 6000 rounds of ammunition off the internet, to buy four weapons, including an assault rifle, and for all of this to be perfectly legal in modern America, allowing him to carry out the biggest shooting in the history of the United States, that, I'm afraid, means it's too late for this debate, for those people who've lost their lives. So don't patronize me about when we should be talking about the gun control debate."
Morgan grilled Kopel to give him a reason why the law should not be tightened to prevent someone like the Colorado shooter being able to legally acquire the same guns and ammunition. Kopel said that no one has the "full facts of the situation yet," and so it would have been better for people in the media to wait a few days before saying that gun control is the problem.
Watch the video below, courtesy of CNN:
Have a tip we should know? tips@mediaite.com
Josh Feldman - Senior Editor