Piers Morgan Confronts David Axelrod About Obama's 'Evolution' On Gay Marriage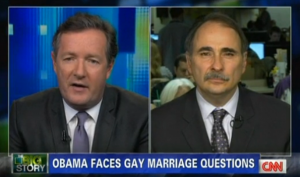 On Monday night, Piers Morgan addressed Vice President Biden's headline-making remarks about gay marriage. Over the weekend, Biden said homosexual couples should have the "exact same rights" as everyone else — and since then, his comments have brought back the national conversation about President Obama's "evolution" on the issue. Morgan spoke to Obama's senior campaign strategist David Axelrod about it.
RELATED: VP Joe Biden Comes Out In Favor Of Gay Marriage, Name-Drops Will & Grace
Axelrod said Biden's remarks were in keeping with Obama's policy:
I feel, Piers, on the policy the vice president was describing there, that they are in complete accord. That is the president's policy. He believes that couples — heterosexual couples, gay couples — should have the same legal rights. And of course that's why we've stopped appealing the DoMA case. Because he believes it's unconstitutional for states not to recognize — the government not to recognize marriages that are legally recognized by the state. So what the vice president was stating there was very much in keeping with that policy.
Morgan acknowledged that but went on to say that some in the gay community still feel the president hasn't been very supportive, even given the repeal of Don't Ask Don't Tell and response to DoMA. Morgan told Axelrod, "But there is an inconsistency between saying, I am supportive of all gay rights and gay equality whilst not saying that you believe in gay marriage, particularly when America now has eight states that have legalized gay marriage."
Axelrod maintained that the president supported the rights of those states, and that Obama does want to ensure that those legally married in those states are fully recognized "just as marriages between men and women are recognized." The whole country, he said, has "gone through an evolution" — like the president has.
Back to Biden, Morgan said he was "struck" by the fact that the vice president is Roman Catholic, because supporting gay marriage "does fly in the face of Catholic teaching, and it takes a brave Catholic" to go against that. Then, commenting on some wanting the president to be more "audacious," Morgan said, "This is a classic case where everybody kind of presumes [Obama's] going to do this. So why doesn't he just do it now?"
Simply, Axelrod replied, "I'm not going to make news for the president here" — and noted his "historic steps" to stand up for gay rights. "I'm proud of him for taking those steps," he said, "I think they were, you know, some would say, audacious steps in and of themselves."
Take a look, via CNN:

Have a tip we should know? tips@mediaite.com