Piers Morgan Confronts GOP Rep: Why Do Any of You Deserve Pay During Shutdown?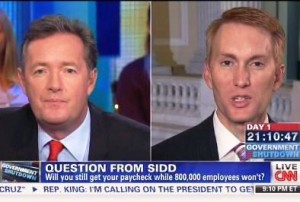 CNN's Piers Morgan confronted Republican congressman James Lankford Tuesday night over how crazy it is that members of Congress whose inaction led to a government shutdown will still get paid during the shutdown. Morgan, flanked by a studio audience, also pushed Lankford on the unpopularity of Congress and on why the GOP is still pushing to defund Obamacare.
Morgan asked why Republicans are trying to defund or delay a law that was legally passed and upheld, not to mention a law that President Obama won reelection on. Lankford pointed out that House Republicans also kept the majority in 2012, arguing there are still too many problems with the health care law they want to deal with.
Morgan pointed out this is "normal, run-of-the-mill negotiation stuff" and they "shouldn't shut down the government" over it. He also brought up Congress' record-low approval ratings, but Lankford dismissed the criticism and maintained that they came out with a "pretty reasonable" Obamacare compromise. Morgan shot back, "Very few people in the Western World agree."
An audience member asked if it's fair that Congress will continue to get paid during this. Lankford downplayed how much government employees would suffer, saying they eventually get paid back, but Morgan pressed the issue.
"Why should the very people who have caused the shutdown continue to be paid when the victims of the shutdown are not being paid?"
Lankford did admit he would be willing to withhold his pay during the shutdown.
Watch the video below, via CNN:
[photo via screengrab]
— —
Follow Josh Feldman on Twitter: @feldmaniac
Have a tip we should know? tips@mediaite.com
Josh Feldman - Senior Editor