Piers Morgan Confronts Grover Norquist On Tax Hikes: 'You've Been Intransigent'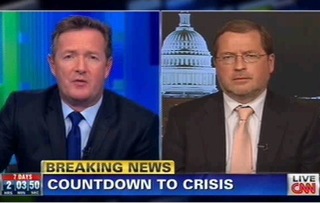 In a segment chock full of bizarre idioms, Piers Morgan confronted conservative thinking character Grover Norquist on what he argued was a damaging philosophy to the Republican Party. Arguing that "most impartial observers outside of America say that [not budging on taxes] is crazy," Morgan suggested that Republicans could face a backlash for not raising taxes, to which Norquist replied that tax reform, not tax hikes, were the answer.
"You're the eye of the tiger in all this," Morgan noted by way of introduction, before telling Norquist that he had been "intransigent" and in his "eye of the tiger" position had cornered the Republicans into a stalemate. Norquist replied that it was a Reaganesque tax reform that was long overdue, as Americans "shouldn't raise taxes to pay for bigger government." Switching gears from he potential damage to America to that to the Republican Party, Morgan labeled the suggestion that it was the President whose profile was hurt by the debate as "quaint," which prompted Norquist to clarify.
"I'm opposed to the idea of going bankrupt or hitting the debt ceiling," he noted. "I believe we should come up with something… to reduce spending dollar for dollar with the debt ceiling increase." He suggested that it was the President who had not proposed a plan, not given numbers, and concluded that "the people will have a chance to see that Obama is not taking this seriously." Morgan concluded the interview with a question Norquist couldn't quite answer: "At some stage, someone has to hand the baby to the enemy. Who's it going to be?"
The segment via CNN below:

Have a tip we should know? tips@mediaite.com