Piers Morgan Lambasted On Twitter By Carol Roth Re: Gun Control; She Comes On Show And Battle Ensues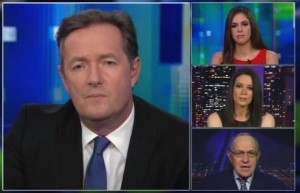 Following the murder-suicide committed by NFL linebacker Javon Belcher, CNN's Piers Morgan tweeted that the Second Amendment was not designed with assault weapons in mind. Business strategist and author Carol Roth fired back on Twitter that gun rights are gun rights, no matter what the weapon used. They got into a heated back-and-forth, and tonight they faced off on Morgan's show to further debate the gun control issue.
RELATED: Bob Costas Responds To Criticism: When Has An Athlete Owning A Gun Ever Made A Bad Situation Better?
After playing comments made earlier tonight by Bob Costas on Fox News, Morgan turned to Roth and confronted her about her criticism of him over Twitter. Roth argued that the ability to own a gun is essentially synonymous with the ability to protect oneself, and used rather a striking analogy to make her point.
"If you look at what is happening right now in Syria with the threat of chemical weapons, the only reason why they're not going to use it is because somebody else has a credible threat, such as the U.S., of using a similar weapon. As a gun owner, you want to be able to protect yourself."
Morgan was astonished by Roth's argument, telling her that her logic was just too ridiculous of a stretch. Alan Dershowitz said that the United States, with its lax gun laws compared to other nations, has a much higher murder rate, and as a result of easy access to guns disputes have been settled more often with bullets than with fists. Morgan added that in the wake of a number of mass shootings in the past few years, there was very little discussion about revisiting gun laws, which he saw as a missed opportunity.
Abby Huntsman made it clear while she doesn't think people should "disrespect our Constitution," times have changed since the days of the Founding Fathers, and there should at least be more background checks in place. Morgan said that while he can respect pro-gun views, he finds it harder to respect obsessive clinging to the original intent of the second amendment.
Dershowitz turned the "personal responsibility" argument on its head, saying that anyone interested in personal responsibility should not have guns in the house to begin with. He suggested that Belcher would be alive today if he didn't own a gun, but Roth interrupted and said he would have easily found other ways to kill even without a gun. This led to quite a bit of loud crosstalk between the panelists before Morgan jumped in.
Watch the video below, courtesy of CNN:
—–
Follow Josh Feldman on Twitter: @feldmaniac
Have a tip we should know? tips@mediaite.com
Josh Feldman - Senior Editor