Piers Morgan Doubles Down On Romney Defense: UK Tabloids' Response Is A 'Classic British Reaction'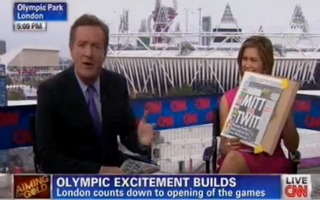 CNN anchor Piers Morgan doubled down on his criticism yesterday of the press' reaction to Republican presidential candidate Mitt Romney's expressing concern over London's security preparedness. Morgan said that what Romney described as being "disconcerting" was merely an echoing local concerns about the security situation, which the British press had been describing as a "shambles" for weeks. He went on to say that turning on Romney for saying what everyone knew was true made him "feel a bit sorry" for Romney and added that he felt it was a typical British response to foreign criticism.

RELATED: Piers Morgan Defends Romney's Olympics Comments: 'He Was Just Speaking The Truth'
"The most talked about story remains Mitt Romney," said Morgan. He went on to feature the universally angry reaction from the British tabloids towards Romney's comments.
After detailing the reaction in London to Romney's skepticism about their security preparedness, Morgan went on to double down on his defense of Romney's comments which he said was only echoing what the press in the U.K. had been talking about for the past month.
"He's getting hammered, isn't he," asked Morgan. "But, you know, I feel a bit sorry for him. Mitt Romney was only really saying what everyone in Britain has been saying for the last month. So we've been moaning away, but the moment an American politician moaned, we all decided to turn on him."
Morgan added that he felt the response by the British papers to Romney's remark was a "classic British reaction."
Watch the clip below via CNN:
> >Follow Noah Rothman (@Noah_C_Rothman) on Twitter
Have a tip we should know? [email protected]