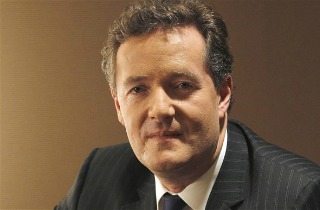 With tensions running high in the United States in the wake of A&E's decision to suspend Duck Dynasty star Phil Robertson indefinitely after he made some inflammatory comments about homosexuality in a magazine, media personalities are operating with hair triggers. On Thursday, CNN host Piers Morgan's trigger went off after Sarah Palin came to the defense of Robertson on her blog.

Palin took to her Facebook page on Wednesday night to defend Robertson and blast A&E for their decision to remove him from the program after the reality television star compared being gay to existing on the same moral scale as practicing bestiality or polygamy. "Free speech is an endangered species," Palin wrote.

This statement appeared to frustrate Morgan who attacked Palin for singlehandedly forcing MSNBC to fire former host Martin Bashir.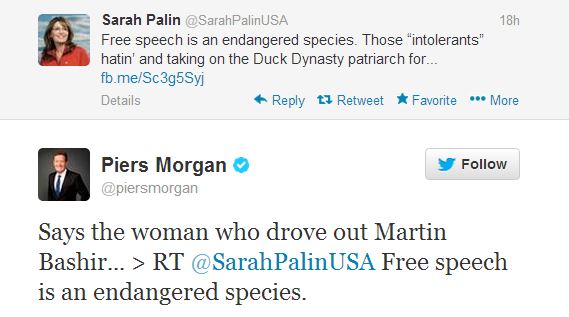 Say what you will about Sarah Palin and her level of influence, but it's safe to say that it does not extend to the executives at 30 Rock. Furthermore, while some may differ on whether or not Bashir should have been removed for his comments, insisting that someone should defecate and urinate in a former vice presidential candidate's mouth is indisputable cause for disciplinary action.
Palin didn't "drive" anyone out of MSNBC. The network determined that Bashir's comments were so offensive that, in spite of the fact that their audience is trained to consume such commentary, he could no longer represent the network. In this case, she was a victim. To attack Palin as somehow being an instigator in that circumstance is nonsense.
[Photo via CNN]
— —
> >Follow Noah Rothman (@NoahCRothman) on Twitter
Have a tip we should know? tips@mediaite.com