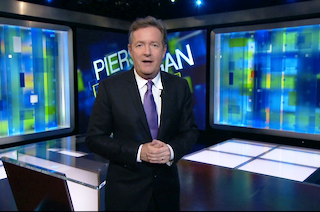 Earlier this morning, we reported that Nightline anchor Bill Weir was departing ABC News for other pastures.
TVNewser beat us to the punch on the news that his new role is with CNN. But that is only part of the story. A reliable source connected to CNN tells Mediaite that Weir has been promised a show during the 9 p.m. ET hour — an hour that happens to be currently occupied by Piers Morgan.

According to our source, the details and timing have not yet been worked out (and we are told it will likely take "many months") but that Weir is expected to get either half or all of the 9 p.m. slot, meaning Morgan will either move time slots or, at best, reduce to a half hour of airtime per evening. Another CNN source tells us that Weir's show will likely launch in "late night" but our original source insists that if that happens, the goal would be to test it out for an eventual move to the 9 p.m. hour.
Either way, the British host, who's become associated with his anti-gun fights as of late, looks to be losing the full 9 p.m. hour.
Weir was previously the anchor of ABC's newsmagazine show Nightline, and on Friday morning, ABC News chief Ben Sherwood announced that Weir was leaving "for another opportunity in the news business."
Earlier this month, FTVLive reported that CNN was preparing to "dump" Piers Morgan, with Katie Couric allegedly being eyed as a replacement. That rumor plus Morgan's declining ratings further fueled speculation that he could be planning an exit strategy from CNN.
We'll have more here as this story develops.
UPDATE: A spokesperson provides the following comment: "Bill Weir was not brought to CNN to replace Piers Morgan."
— —
>> Follow Andrew Kirell (@AndrewKirell) on Twitter
Have a tip we should know? tips@mediaite.com