Piers Morgan Explodes At Gun Advocate: 'How Many Kids Have To Die' Before You Change Your Mind?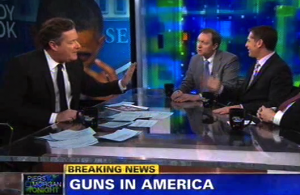 Piers Morgan has been one of the most vocal pundits in the past few years calling for stricter gun control laws in the United States, and has clashed a number of times with gun rights activists. Tonight Morgan appeared to have had it with the pro-gun arguments. He confronted gun advocate John Lott on his show last night and demanded to know what, after shootings at a movie theater and a house of worship and an elementary school all in the same year, will finally get the gun rights crowd to accept that the nation needs more gun control laws.
RELATED: MSNBC's Alex Wagner: Hopefully CT School Shooting Will Result In 'Political Capital' To Reform Gun Laws
Morgan asked Lott exactly why a kindergarten teacher needed three guns, including a semi-automatic weapon, in her house, especially when she had a "clearly deranged son" in the house. Lott tried to explain the mechanics and appearances of semi-automatics, but was interrupted by Morgan, who pointed out that the shooter fired off a hundred rounds in a matter of minutes. Morgan raised his voice and asked Lott, "At what point do you gun lobby guys say, 'We get it, it's time for change'"?
Lott said the answer is to get rid of more gun laws. Morgan incredulously asked, "What the hell has that got to do with it?" Lott argued that in the case of the Aurora movie theater shooting earlier this year, the gunman did not go to a theater close to his home or with the largest screen, he specifically targeted a theater where there were no gun control laws. Lott said that overall, places that institute such laws find increased rates of violence going up.
Dan Gross, the president of the Brady Campaign to Prevent Gun Violence, dismissed Lott's argument as "pure bunk," explaining that he has spoken to people who witnessed similar shootings firsthand, and in no cases did he find anyone who thought another person with a gun would make a situation better. However, Steve Dulan from the Michigan Coalition of Responsible Gun Owners argued that "the only way to stop an evil person" is to shoot them.
This set off Morgan again, and said that he's getting tired of having to hear the same arguments every time there's a mass shooting, arguing that more guns would lead to crossfire and more people potentially getting killed. After a bit of heated crosstalk, Congressman Jerrold Nadler interjected to point out every other industrialized nation has reasonable gun control laws and they all have significantly fewer deaths by gun violence than the United States.
Lott pushed back against Nadler and Morgan, before Morgan interjected yet again to express his outrage over Lott's position.
"Stop telling me the answer is more guns, it is not the answer!… So you want more guns, not less. 300 million guns in America is not enough for you. How many kids have to die before you guys say, 'We want less guns, not more'"?
Lott said he's worried that the kind of gun control laws Morgan is pushing for "have killed people." Morgan dismissed it as "nonsense," pointing to a correlation between a handgun ban and low gun violence in Britain. Morgan said he is "furious" that little children were killed with "legally acquired weapons" and that's not enough to make gun rights people rethink their position.
Morgan closed the segment by making it clear people should not be labeling opinions such as his as "anti-American", and told Lott that both he and the gun lobby need to change their thinking.
Watch the video below, courtesy of CNN:
—–
Follow Josh Feldman on Twitter: @feldmaniac
Have a tip we should know? tips@mediaite.com
Josh Feldman - Senior Editor